Some saints haven't much cared for each other ... and yet, they are brothers.
What can God do in your life with one Bible verse a day?
Subscribe to Aleteia's new service and bring Scripture into your morning:
Just one verse each day.
Click to bring God's word to your inbox
As they took up stones and began hurling them through the air, St. Stephen fell to his knees. The stones began to hit him, bruising and breaking his body, while Saul of Tarsus stood by, holding the cloaks of Stephen's assailants. "Lord," Stephen cried out, "do not hold this sin against them!"
"If Stephen had not prayed thus," St. Augustine mused a few centuries later, "the Church would not have had Paul." Because of Stephen's prayer of forgiveness, Paul was showered with grace, grace that ultimately knocked him down on the road to Damascus and raised him up a new man.
For decades, Paul fought to spread the faith for which Stephen had been killed. For decades, he repented over his role in the protomartyr's death. And when he suffered the same fate, offering his life for the Lord who had first loved him, Paul went to meet his maker and the martyr he had made.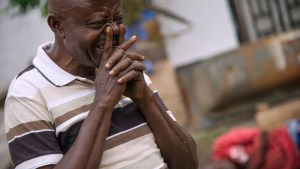 Read more:
Why does fasting have anything to do with a far-away war?
I imagine Paul walking into heaven, looking dazedly about himself until he caught sight of Stephen. At that moment, the two must have run to each other, laughing and crying and embracing in a joy we can't imagine. There was no shame, no reproach. They were comrades, brothers. Stephen was delighted that Paul had been victorious; Paul was thrilled to see the one whose prayers had brought him home.
Through it all, the Queen of All Saints looked on, loving both of her children with neither blame nor pity. Her boys were home and she made no distinction between murderer and murdered. In Christ, they were made new. In Christ, they were her sons.
It can't have been as easy at the foot of the Cross, as she watched her son die by the hands of men she was expected to love. When the centurion cried out, "Truly, this man was the Son of God," could she open her heart to him? Was the Resurrection enough to make her embrace St. Longinus, the centurion who had killed her son but who became a powerful witness to the resurrection?
She must have. Mary is Queen of All Saints, which means that Longinus was her son just as much as Peter, James, and John. As the years went by, she would watch again and again (from her vantage point in the beatific vision) as her children stood in opposition to one another. St. Paul and St. Mark had a serious falling out, as did St. Camillus de Lellis and St. Philip Neri. Sts. Columban and Finnian fought a holy war over Finnian's refusal to lend Columban his Bible.
And then there are the saints whose martyrdom was so beautiful that they converted their killers, murderers who later went on to become saints themselves. St. Peter Martyr was killed by Blessed Carino of Balsamo, Sts. Timothy and Maura by St. Arian of Alexandria. Even St. Maria Goretti's killer, Alessandro Serenelli, may one day be canonized.
Through all the centuries of drama and debate, of heretics corrected and visionaries suppressed, of martyrs and their murderers, Mary has been queen of them all. Standing as she does in the presence of God, she knew that the anti-pope St. Hippolytus would join his rivals, Pope St. Urban I and Pope Saint Pontian, as a saint of God. She saw St. Henry Walpole jeering at the execution of St. Edmund Campion and knew that the blood that spattered on him there would ultimately win him a halo. When St. Augustine rolled his eyes at St. Ambrose, Mary knew that St. Monica's prayers would draw him to join Ambrose as a bishop and a saint.
Mary is queen and mother of all saints, which means she loves them desperately, even when they don't much care for each other. She loves them when they persecute each other, when they set themselves up in warring factions over questions of liturgy or orthodoxy. She loves us, we who are called to be saints, even when we act very much like we aren't. Mary sees the potential, the holiness yet to come. Mary loves us all.
Looking at Mary as Queen of All Saints isn't just a reminder of how many exciting saints there are to get to know; it's an invitation to see people not merely as who they are but as who they might become. Every anti-pope is a potential saint, every heretic, every rapist, every Satanist, every murderer. When we define people by their sin—when we refuse to offer forgiveness or to consider the possibility of conversion—we turn aside from the Queen of All Saints. Together with Mary, Mother of All Saints, let's choose instead to see every person as a potential saint, worthy of our love and respect. In heaven, there are no divisions; let's practice for heaven here.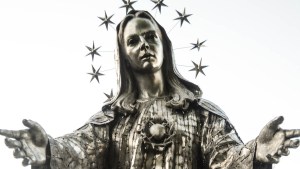 Read more:
Blessed Virgin Mary of Everybody: Do you know that apparition?