An antidote to drowning in self-pity is thinking not about what Christ should do for us, but what we can do for him.
What can God do in your life with one Bible verse a day?
Subscribe to Aleteia's new service and bring Scripture into your morning:
Just one verse each day.
Click to bring God's word to your inbox
"If you want to forget about your problems, help someone who has bigger problems." Wise advice from my late mother. In this third column on fighting spiritual darkness (here's PART ONE and PART TWO), let's look at fighting back against Satan's attempt to suffocate us with spiritual darkness and discouragement.
Mom didn't get it 100 percent correct. The goal of spiritual maturity isn't so much to forget our troubles, but to put them into proper perspective. Living our lives as if they're only the opening lines of Louis Armstrong's "Nobody Knows the Trouble I've Seen," we open doors to discouragement, self-pity, and even worse. Here's an illustration.
Theodore Dalrymple is the pen name of a medical doctor and psychiatrist who worked for years in British prisons. He worked with prisoners convicted of brutally violent crimes—even murder—committed at the slightest provocation. In effect: "He spilled his drink on me. How could I put up with that? I had to kill him!" Dalrymple suggests that people with no sense of history or literature, people with no acquaintance with genuine tragedy and virtue, have no perspective by which to judge their own grievances. Consequently, the inmates he treated tended to respond disproportionately to the perceived outrages they suffered. Because they had no moral imagination, they were incapable of empathy or self-control. What can Christians in pain learn from that observation?
It's true that Christians can benefit greatly from a ready familiarity with history, literature and art as a source of perspective when confronted with pain, loss and disappointment. But the Christian response to darkness demands that Christians be acquainted with Christ. Christ is "the Man of Sorrows." He alone suffered every outrage with perfect innocence. He was faithful to our Heavenly Father; he "… loved his own … to the end …" (John 13:1) And the fidelity of Christ was vindicated by the resurrection. If we Christians are to have a specifically Christian response to darkness and discouragement, we must turn to Christ—He who is crucified, risen, reigning and returning.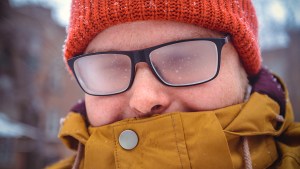 Read more:
Don't minimize your tiny crosses and small annoyances — God doesn't
Christ Crucified: In times of darkness, we can move out of ourselves to comfort the suffering Christ. In our meditations, we can be with him in the garden of olives; we can meet him with mercy on the way to Calvary like Veronica; we can stand with him beneath the cross, like the Beloved Disciple. Doing so protects us against the self-pity Satan wants to drown us in.
Christ Risen: The most important words in the Bible are, "He is risen!" Christ's resurrection is proof that our Heavenly Father always blesses fidelity. The saints testify to this. "The endurance of darkness is the preparation for great light." (St. John of the Cross) "Entrust yourself entirely to God. He is a Father and a most loving Father at that, who would rather let heaven and earth collapse than abandon anyone who trusted in Him." (St. Paul of the Cross) "You must accept your cross; if you bear it courageously it will carry you to Heaven." (St. John Vianney) In times of trial, we, like the saints, can contemplate the glory of the resurrection.
Christ Reigning: Christ our King is not an absentee landlord who neglects us until he comes to collect the rent at the end of time. Christ is the Way, the Truth and the Life—always and everywhere. He himself is the moral law; he himself is justice and goodness. Conforming to him in this life brings blessing in this life and glory in the next. "The religious life begins when we discover that God is not a postulate of ethics, but the only adventure in which it is worth the trouble to risk ourselves." (Nicolás Gómez Dávila) In times of darkness, we can entrust ourselves to the service and care of Christ the King.
Christ Returning: For centuries, the Church has taught and prayed that Christ will return "to judge the living and the dead, and the world by fire." No one receives perfect justice in this world. The compensations and vindications a fallen world can offer can only fall short. That fact provokes hostility and indignation among those who do not know Christ. The worldly utopias they try to build open the doors to darkness: "As the world becomes less and less Christian, the compensations the world seeks against misery and despair become more and more Satanic." (Arthur Henry King) Even while striving for what is right, Christians can endure patiently, confident that all their good efforts will be fulfilled and exceeded by the returning Christ. In times of darkness, we read Revelation 12:10 and look forward to Christ's return in glory, in which we hope to have a share.
When I write next, I will begin a conversation about how we can improve marriage preparation for engaged couples. Until then, let's keep each other in prayer.