Kids are challenging their parents to master the Floss Dance, leading to laughs and good old-fashioned bonding.
What can God do in your life with one Bible verse a day?
Subscribe to Aleteia's new service and bring Scripture into your morning:
Just one verse each day.
Click to bring God's word to your inbox
Novelty dances are nothing new. Technically speaking, the waltz and the minuet from the post-Renaissance period were at one time "dance crazes." Of course, even though they are now out of fashion except in niche circles, these classic dances endured through the ages and you would never consider them on par with some of the more contemporary fads. Remember the not-so-modest twerking, made famous by Miley Cyrus in 2013? (Thankfully that's only a distant memory now …) And Gangnam Style, a nod to Korean culture, featuring abrupt arm movements and squat type moves? Today, if you're a kid or a parent of a kid you know that all of these dances have been replaced with Flossing.
You've seen your kid do the Floss Dance, even if you didn't know that's what it was called. It's everywhere… in Hollywood, in the NFL, and in video games like Fortnight, and pretty much all over YouTube and Instagram. You may have even tried to master the move yourself, after skeptical eyes have gone to sleep, by watching YouTube videos like this one below that has 3.5 million views:
Savannah is a great teacher — never mind that she's causing a little bit of controversy. Savannah's patronizing tone (theatrics, probably?), showing parents how to stretch so they don't hurt themselves before attempting the dance, and often repeating and re-explaining steps as most parents speak to young children, has rubbed some commenters the wrong way. An equal number of others, many of them parents of their own sarcastic teens, think she is hysterical and part of the charm of the video.
Let's remember that fad dances are just silly, not serious. And the Floss Dance, with its simple, synchronized arm and hip swings, is innocent compared to some of the more provocative (Twerking) or puzzling and slightly arrogant (Dabbing) moves we've seen in popular culture. If anything, it's bringing kids and parents together in a different, funny way. The Wall Street Journal recently reported that parents are now attempting to use the Floss Dance as a way to embarrass their kids.
The article features a video in which an instructor breaks down the dance into different sections in order to teach parents the three fundamental parts: the arm swing, the hip swing, and then incorporating both together. Some parents were able to get it pretty quickly, others were more challenged, prompting their kids to tell them "stop moving that way" and "go faster."
The joke is that parents (aka old people) will never be able to do the Floss Dance as well as their children because of their "old bones" and "tight muscles." It does take a certain amount of limberness and flexibility to master the move, which looks better the faster and more coordinated it's performed.
Dances come and go (no doubt the Floss Dance is on its way out as we speak …), but for now, the Floss Dance is getting kids and parents moving and laughing (or in the parents' cases, being laughed at) together — and off their screens. How can that be a bad thing?
And before grownups are written off entirely, watch this newscaster from a British morning show give us — and our humiliated kids — hope …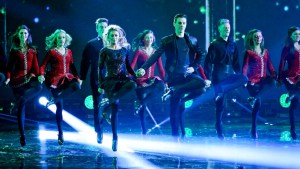 Read more:
Riverdance leads all-star lineup to perform for Pope Francis at Festival of Families