Moms have a precious little window of time to deliver a great benefit to their baby.
What can God do in your life with one Bible verse a day?
Subscribe to Aleteia's new service and bring Scripture into your morning:
Just one verse each day.
Click to bring God's word to your inbox
There's a reason why, often within minutes after you give birth, a nurse may place your naked newborn baby on your chest and encourage you to breastfeed — even if you are barely functioning after that dickens of a labor, even if you weren't totally committed to the idea up to that point and may have been leaning toward formula. The breastmilk that comes in immediately after birth is frequently referred to as baby's "first vaccine" — it's essentially pure colostrum, an antibody-packed superfood with the main purpose of immunology rather than nutrition.
Babies who get to drink this "liquid gold," as it's commonly called, get a healthy head start in life and protection against numerous health conditions later on in childhood, according to much research. The skin-to-skin contact immediately after birth not only promotes good  bonding between mom and baby it also helps to stimulate that vital colostrum production.
So if your nurse or midwife actually did this, consider yourself one of the lucky ones.
This is a rare occurence in poorer parts of the world, according to a piece in the Vatican News marking the start of World Breastfeeding Week, which runs from August 1 to 7 annually. The article cites a new report that 78 million babies, or 3 out of 5, are not breastfed within the first hour of life, which means they are missing out on the highly protective powers of colostrum.
Pope Francis has been extremely vocal on this subject in an attempt to break down the stigma of public breastfeeding, as well, including at the annual baptism ceremony at the Sistine Chapel in Rome where he encouraged women with fussy babies to "breastfeed them, without fear, feed them, because that's the language of love." He's also encouraged nursing in other public situations where he encountered moms and their little ones.
Of course, formula should always be an option for moms who can't breastfeed, for whatever reason. But it's not an ideal solution for babies born in poverty and Third World nations, in particular, for many reasons. Formula requires clean drinking water, which can be scarce in certain places around the world, putting baby's health at risk. Cost is another reason — formula is expensive, taking money away from food, healthcare and other necessities for the entire family. Mothers will often try to dilute the formula to make it last longer, depriving their babies of the right balance of nutrients.
We have to remember that giving birth in a poor country is nothing like it is in the United States and other western nations — there's not nearly the same amount of education, support, and awareness. And yet, there isn't one country in the world — even the high-income ones — that supports breastfeeding 100 percent. Some countries, like Sweden, Uruguay and Oman, come very close. But other countries, like Ireland and even the United States, fall far below the ideal rate. (Recent data shows that 80 percent of mothers in the US start out breastfeeding their children, according to CNN.)
So support from the pope and others — as well as prayers for mothers everywhere — is an invaluable step in helping to turn these statistics around.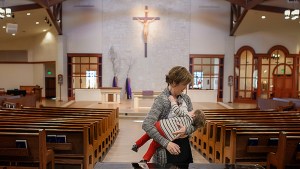 Read more:
10 Thoughts a nursing mom has while breastfeeding in church