Before praying the midday Angelus with the faithful, the pope talks of why Christians have to do more than avoid evil
What can God do in your life with one Bible verse a day?
Subscribe to Aleteia's new service and bring Scripture into your morning:
Just one verse each day.
Click to bring God's word to your inbox
People often feel self-satisfied as long as they can affirm, "I'm not a bad person. I never hurt anybody." But Pope Francis says that isn't enough and that to be an authentic Christian, we have to do more than avoid evil.
Before leading the midday Angelus on Sunday, the pope reflected on St. Paul's exhortation to "Be kind to one another, tender-hearted, forgiving one another, as God in Christ forgave you."
He said: "One often hears it said: 'I don't harm anyone.' And one believes oneself a saint. Yes, but do you do good? How many people don't do evil but don't do good either, and their life unfolds in indifference, in apathy, and in tepidness. Such an attitude is contrary to the Gospel."
Speaking especially to young people, the Holy Father told them that this indifference and lukewarmness is especially contrary to their nature, which is "dynamic, passionate and courageous."
"Remember this," he said, "… 'it is good not to do evil, but it is evil not to do good.' Saint Albert Hurtado said this."
He thus referred to a favorite Argentinean saint of his: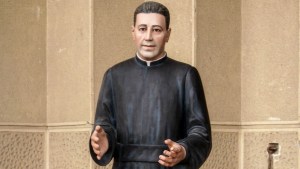 Read more:
Honored by Pope Francis, this priest is a patron of the poor, street children, and social workers
Read more:
The "Madman" of the Sacred Heart
Pope Francis continued:
Today I exhort you to be protagonists of the good. Do not think you are fine when you do not do evil. Every one of us is guilty for the good he could have done but did not do. It is not enough not to hate; one must forgive. It is not enough not to be resentful; it is necessary to pray for one's enemies. It is not enough not to be the cause of divisions; it is necessary to bring peace to where it is not present. It is not enough not to speak badly of others; it is necessary to interrupt when we hear someone being spoken of badly: to stop the gossip is to do good. If we do not oppose evil, we fuel it in a tacit way. It is necessary to intervene where evil is being spread because evil spreads where there is a lack of  daring Christians who oppose it with the good, 'walking in love' (cf. 5:2), in keeping with Saint Paul's admonition.
Read more:
Pope Francis: Families Cannot Last without Forgiveness