It's easy to forget, but we have divine help at our beck and call every single day.
What can God do in your life with one Bible verse a day?
Subscribe to Aleteia's new service and bring Scripture into your morning:
Just one verse each day.
Click to bring God's word to your inbox
It's not news that raising kids is hard. I have a wonderful husband and support from my family, church, and school communities. But sometimes I still look around and wonder what in the world I've gotten myself into.
I have four kids under the age of eight, and most days are mentally, physically, and sometimes spiritually exhausting. By the end of the day (heck, sometimes by 10 a.m.), I feel I've given everything I've got. I count the hours until my husband comes home and wonder how I'll make it.
When I have the wherewithal to see beyond the moment, I realize that God did not call me to be a mother and then leave me to do it all on my own. He wants to help me. The purpose of my vocation of being a wife and mother is to grow closer to Him, to call on Him, to allow myself to be receptive to His graces, which really are the only way I'm going to do this thing well.
I've learned the hard way that kids imitate everything they see. I can tell them to use quiet, gentle voices a million times a day, but if I'm yelling it at them, they're not going to get the message.
On the other hand, if I am treating others kindly, speaking charitably, and expressing my thanks regularly, they're going to learn to do the same. And because I'm a sinner, the only way I can hope to do those things consistently is to ask God to help me—to call on God as my Father and welcome His aid with open arms and a willing heart.
Here are three things I've learned about parenting when I rediscovered the blessing of God being my Father:
I will never be too old to say I'm sorry
God's mercy is new every morning, but so is my propensity to look out for myself first and get impatient when things don't go my way—especially when I haven't gotten enough sleep, which, with an infant, is most days. Apologizing to my kids when I've lost my cool helps them to see that there's no situation where they can't ask for forgiveness and that holding a grudge doesn't do anyone any good.
Saturday afternoons get real busy, real fast at our house. But making time for Confession bears better fruit for the week to come than anything else I could do instead. The sacrament is one that still makes me nervous at times, but with a proper Examination of Conscience beforehand (I like this one) and some time spent in the chapel afterward, I always come home more peaceful, calmer, more patient, more forgiving, and just plain happier.
Taking care of myself matters
Scripture tells us to pray without ceasing and in all things to give thanks. At first glance, this sounds exhausting and untenable. How in the world can we pray all the time when breakfast needs to be made, dishes need to be washed, and the three-year-old just stubbed her toe?
Caring for ourselves—though not in an extravagant way—is crucial to serving others well. Our bodies are gifts from God. If you are a biological mother like I am, then you know the wild experience of carrying another life within your own and perhaps also nourishing that life with your milk after birth. If that's not your experience, or simply after that first stage of life, our bodies are still the means by which we serve, and as such, need to be cared for. We need good food; we need some exercise beyond getting up umpteen times in the middle of the night to put a little one back to sleep; and we need rest.
I'll say it again: our bodies are gifts from God, and they should be treated as such. Caring for our bodies is prayer. Eating well and sleeping enough are ways of giving thanks to God. When we honor our bodies, we honor God. It's no wonder we feel better when we do. This is what He wants for us!
It's always a good idea to say thank you
Even if we don't like the gift we're given (or the looks of the meal Mom cooked), responding to the other's act of generosity and thoughtfulness is gesture worth making. Gratitude opens our hearts to communion with our brothers and sisters and makes us more ready to respond to the opportunities God gives us to serve Him. Things aren't always going to go our way. But everything can be used as a way to draw closer to our Father. He is calling to us every day. Even a meek answer can help us conform our hearts to His.
Let's not forget that Mass is the ultimate thanksgiving and the "source and summit of the Christian life." Even when I'm not totally present, due to whisper yelling at my kids to chill out and grabbing kneelers before they bang to the floor, there is grace in being in the presence of our Lord in the Blessed Sacrament. God wants to meet us where we are. He wants us to spend time in His house and have that be a place of comfort and renewal. Say "yes" to the invitation, and see how your life changes.
God is my Father. I've known this since I learned the "Our Father" as a child nearly three decades ago. But somehow, when I became a mother, I thought that more of the responsibility fell to me. That while my children were gifts from God, it was on me to raise them well. Parenthood is an enormous responsibility. But it's also an opportunity to draw closer to my own Father, to experience His love for me on a more profound level.
I am a wife, a mother, a sister, and a friend. But before all of that, I am a daughter of God. Thank God for His love. Thank God for my family. Thank God for my vocation and the blessing of serving Him through these little ones.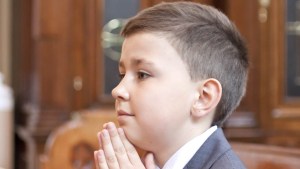 Read more:
How one mom got her priest on board to make confession a family-friendly affair