Isidore may seem like a strange choice, but his academic works make him a perfect fit.
It may seem strange that a 7th-century saint was chosen as the patron saint of the internet, but after a careful examination of his life, St. Isidore of Seville turns out to be the perfect choice.
Isidore (not to be confused with St. Isidore the Farmer), was the Archbishop of Seville during the 7th century. He was a great scholar whose encyclopedic knowledge was far reaching.
Before his death, Isidore wrote a collection of books called Etymologiae, which, according to the Catholic Encyclopedia, was "a vast storehouse in which is gathered, systematized, and condensed, all the learning possessed by his time. Throughout the greater part of the Middle Ages it was the textbook most in use in educational institutions."
Interestingly enough, Isidore did not contain himself to only theological topics, but successfully collected information on all subjects, both secular and religious. Pope Benedict XVI explained in a General Audience, "The wealth of cultural knowledge that Isidore had assimilated enabled him to constantly compare the Christian newness with the Greco-Roman cultural heritage, however, rather than the precious gift of synthesis it would seem that he possessed the gift of collatio, that is, of collecting."
For this reason, Isidore has been regarded as the patron saint of the internet. He was, in a certain sense, a human "Wikipedia," possessing a vast storehouse of information on every topic available.
St. Isidore is a great intercessor for all those logging on to the internet, a saint who can help us find what we need as well as protect us from the darker side of the World Wide Web.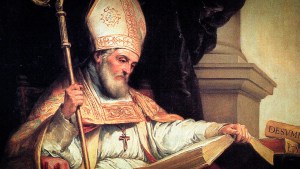 Read more:
A powerful prayer before logging on to the internet