Sleep deprived? Here's how to rejuvenate with a double hit of a nap and some fresh air.
Lately, I've become a little too familiar with the particular brain fog that comes after a sleepless night. Long hours, sick kids, and early mornings have combined forces to sabotage my sleep, leaving me bleary-eyed and dim-witted.
Okay, maybe I'm not actually dim-witted — but most days, I certainly feel that way. Sleep deprivation leaves you feeling like you're trying to think your way through soup … things disappear and reappear, nothing is clear, and sometimes you find a carrot when you were looking for a potato. Sadly, the effects of sleep deprivation aren't ones that can be remedied without, you know, more sleep. But there are some things you can do to mitigate them, according to Elite Daily:
If you're feeling especially drowsy, start by taking a quick power nap. A review published in the nursing journal Biological Research for Nursing examined 13 different studies to determine the effects of napping on night-shift workers with sleep-related performance issues. The results overwhelmingly pointed to the benefits of taking a quick, midday snooze if you're feeling significantly exhausted. But, as nap expert Christopher Lindholst told Elite Daily in a previous interview, keeping your nap under a half hour is really important if you want to feel both refreshed and able to get back to your regular sleep schedule. Another way to boost your productivity after a sleepless night? Try stepping outside for some good old-fashioned, nature-inspired energy. "Connecting with nature and being in fresh air can make you feel more awake," Leigh Winters, a neuroscientist and wellness expert, told NBC News back in February. "Also, getting some natural sunlight helps maintain circadian rhythms, which will help get your sleep schedule back on track."
As an avowed poor napper, I've been struggling hard with naps these last few months. I tend to either lie awake, waiting in vain for my brain to turn off, or I fall asleep instantly and sleep hard. In either circumstance, the result is much the same — afterwards I feel even more tired, sluggish, and mentally cloudy than I did before.
However, last week I finally tried taking an actual power nap. I've always written power naps off as pointless — after all, 20 minutes of sleep isn't really any sleep at all, much less a significant enough amount to help your brain and body feel more rested. Why waste 20 minutes half-sleeping instead of pushing through the day?
But I was getting desperate. After being up late working and then sleeping poorly because of coughing, sick kids, I was going on three days of less than four hours of sleep per night. I had long passed the sluggish-followed-by-delirious phase of sleep deprivation and was alarmingly close to the clinically-depressed-and-crying-for-no-reason phase. And I had exactly 45 minutes in between camps to eat and rest a little.
So I forewent an actual meal and instead opted for protein coffee and a power nap. I set my alarm for 25 minutes and fell gratefully into bed.
Y'all. That 25 minutes felt like an hour. It's almost certainly a bad sign that I had an actual dream during 25 minutes of sleep, but it must have been precious minutes that I desperately needed, because I woke easily to my alarm and got up feeling genuinely rejuvenated.
I grabbed my stuff and headed to camp, and the double-whammy of a power nap and an hour and a half outside in the sun was exactly enough to clear my head and restore my sense of well-being. I was able to finish the day happily — and even more happily, I was able to get a solid 9 hours of sleep that night.
So if you've been doubting the power of the power nap, I'm here to tell you that it's legit. Next time you're short on sleep, take a power nap and then go outside. You won't be as good as new, but you'll be as close as you can get until you've got the time for some good sleep.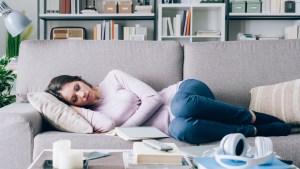 Read more:
Why you should give yourself permission to nap more often