Being polite isn't simply about being nice.
When I was growing up, my parents made teaching us good manners a priority. We learned from a young age to say, "yes ma'am, yes sir, please, excuse me," and "no, thank you." Every adult was "ma'am" or "sir" to us, no matter what the adult in question told us to call them. But since we were raised in Texas, we weren't often corrected — the adults we met almost always commented on how polite we were.
I could tell it made my parents proud. They worked hard to teach us to be polite — not just to strangers, either, but to everyone, including them and each other. It created an environment that I took for granted as a child, but one that I wish I had managed to re-create in my own family. The older I get, the more I'm beginning to realize that politeness and manners aren't artificial social constructs that obscure authenticity; in fact, manners are a way of showing empathy for others, and teaching children to be polite also teaches them to be empathetic. As The Atlantic puts it, manners and the empathy underlying them is "social glue, binding people together and creating harmonious relationships." 
There are multiple ideas of what it means to be polite. The oldest, coined by the British philosopher Lord Shaftesbury in the early 1700s, holds that "'politeness' may be defined a dext'rous management of our words and actions, whereby we make other people have better opinion of us and themselves." That is, we behave politely so as to boost our own social standing among our peers.

But I prefer the definition offered by Brendan Fraser's Cold-War-era Prepper character in the 1999 feature film Blast from the Past: "Manners are a way of showing other people we care about them."

Signaling that you understand how hard someone else's situation is certainly makes you better at cocktail parties. But empathy — or "politeness," or "manners" — isn't just there at the start of interpersonal relationships; it also holds them together.
Unfortunately, this is a truth that took me many years to learn. We often take the people we love the most for granted — it's human nature. Sometimes when we get comfortable with our closest friends and family, we gradually stop making the effort to be polite. Requests slowly lose the accompanying "please," and if we're not careful, over the years they can morph from requests into demands.
Remembering to "mind your manners" doesn't mean remembering to use certain words. It means remembering to treat others the way you would want to be treated. It requires us to always keep the humanity of the other in the forefront of our minds, ensuring that our interactions are characterized by respect and empathy. In the end, minding our manners is a way of building virtue — specifically, the virtue of compassion.
I never would have guessed that my parents' attention to teaching us manners would help us grow in virtue, but it did. It still does. And that's a lesson I absolutely want to pass on to my own children. It might be late in the game, but it's never too late start teaching children to mind their manners. As with every lesson, the most effective way to teach is by showing … so it's time for me to go back to the lessons my parents taught me decades ago, and remember to mind my manners. Only this time, I know it's not a pointless set of rules to follow — it's a way of showing my family, friends, and strangers that I care about them.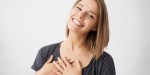 Read more:
Why manners are the glue that holds society together