"... Big Bird helped me find my purpose," says Caroll Spinney, the puppeteer who played two of the best known Muppets.
After 50 years on the air, Big Bird is retiring. Well, not Big Bird exactly, but the man who's given life to the character. Caroll Spinney will hang up his feathers this week. Spinney has played Big Bird, as well as Oscar the Grouch, since Sesame Street's first episode aired in 1969.
Though fans of the show may not recognize Spinney's face, they'll inevitably remember the soft-hearted, curious and tender way that Big Bird had about him — and this was largely due to Spinney's influence on the character. He was originally to play Big Bird as a "funny, dumb yokel." But, after a few episodes, Spinney suggested something different. "I said, I think I should play him like he's a child, a surrogate," he recalled. "He can be all the things that children are. He can learn with the kids." This sentiment shaped much of Sesame Street from that point on.

"Big Bird has always had the biggest heart on Sesame Street, and that's Caroll's gift to us," said Jeffrey Dunn, the president and chief executive of Sesame Workshop. "I think it's fair to say that Caroll's view of the world and how we should treat each other has shaped and defined our organization."
The physical challenges of playing Big Bird became too much for Spinney, who stopped the puppeteering portion of the role in 2014. Up until this week he has continued to voice both Big Bird and Oscar. And while both roles are two of the most beloved Muppets in the history of the show, they were incredibly special to Spinney himself, as well.
When asked if he had any regrets, in an interview with the New York Times, Spinney responded "I always thought, How fortunate for me that I got to play the two best Muppets?" he said. "Playing Big Bird is one of the most joyous things of my life."
"Before I came to Sesame Street, I didn't feel like what I was doing was very important. Big Bird helped me find my purpose," Spinney said in a statement from the Sesame Workshop. "Even as I step down from my roles, I feel I will always be Big Bird. And even Oscar, once in a while!"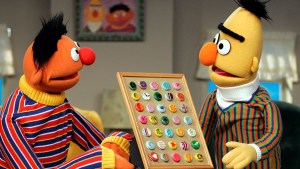 Read more:
What Bert and Ernie are still teaching us about friendship