I would pass through all of these again only to meet you, to love you, and to hope without any expectation ...
Any parent who has lost a child will tell you that the little one is always with them in their minds and hearts, even decades after the loss. One mother in Spain gave voice to the gratitude she felt for her baby's life, even amidst the pain of losing him so quickly—a feeling to which many bereaved parents can relate. Watch this video to see her story and that of her baby, Ismael.
Husband and wife Susi and Alfonso were expecting their son, Ismael, when doctors diagnosed him in-utero with cardiophaty, a serious heart condition that meant he would not survive long after birth. Despite pressure to abort, Susi and Alfonso chose to continue with the pregnancy and spend as much time with their son as they could.
Baby Ismael was born on December 8, the feast of the Immaculate Conception. He was baptized immediately and his parents spent two days holding him and loving him before he passed away on December 10, the feast of Our Lady of Loreto. His mother Susi saw significance in these feast days, as surely no one knows better than Mary the grief of losing a child, or can walk beside a grieving parent so closely and lovingly.
In a moving open letter, Susi reflected on her son's brief life and how grateful she is for even the short time she was able to spend with him:
Now that you are neither inside me nor can I hold you in my arms, or kiss you again … the pain and emptiness in my heart is immense. However, I would pass through all of these again only to meet you, to love you, and to hope without any expectation … to rock you in my arms, to bathe your face with my tears. You have been a blessing for us; you have taught us a lesson of love, simplicity, and humility. You have showed us how to fight for life and surrender everything. When I embrace you with my arms and you opened your little eyes to stare at me, you showed me that everything that we passed through was worth it. The pain that I feel right now is very deep but the love I have for you is even stronger. I feel that I am the most fortunate mother in the world because I have had a son like you.
Susi ended her letter asking her son to pray for her and their family. Her moving words offer a powerful reminder that love is stronger than death, and that, through Christ, we can hope to be reunited with our loved ones in Heaven.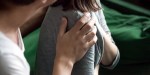 Read more:
Here are places that can help if you've had a miscarriage or stillbirth