Jesuit who became a Byzantine priest worked to help disparate parts of the Church understand one another
Need an idea for Lenten almsgiving?
Help us spread faith on the internet. Would you consider donating just $10, so we can continue creating free, uplifting content?
Make a Lenten donation here
Fr. Robert Francis Taft, preeminent historian of the Eastern Christian liturgy and an outspoken voice in relations between the Catholic and Orthodox Churches, died at his home in Weston, Massachusetts, November 2, at the age of 86.
Fr. Taft, who taught at a pontifical institute in Rome for several decades, is best known for his six-volume History of the Liturgy of St. John Chrysostom. Born into a family that had ties to a U.S. president and a senator from Ohio, he grew up in New England and entered the Jesuits in 1949. But he early on developed an interest in matters concerning the Eastern Catholic and Orthodox Churches and spent his entire priesthood in the Byzantine Rite.
He was also a no-holds-barred critic of anyone who espoused a narrow view of history or a romantic attachment to a time that seemed simpler or more pious. He advocated for such radical ideas as decentralizing authority in the Catholic Church to the point that national bishops conferences could appoint bishops for their own territory, rather than the pope making the choices. This was in line with his sympathy for the Orthodox Churches' structure of autocephalous, or self-headed, Churches, in communion with one another but not interfering with one another's affairs.
In a 2013 interview with Aleteia, Fr. Taft said that "the only way" that full communion will be restored among the various separated Churches is "not by anybody swallowing everybody else."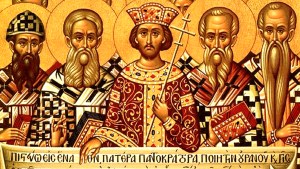 Read more:
What you need to know about the Orthodox-Catholic split and hopes for reunification
"It doesn't mean everybody's got to become Catholic. It means we have to come to the point where we recognize each other as representatives of apostolic Christianity, [meaning] those churches of apostolic origin which have the valid priesthood, episcopate, all the sacraments, valid and adequate for the sanctification of their people," he said. "This is the new 'sister Churches' ecclesiology that the Catholic Church recognizes in several documents from Vatican II on."
He was a consultor to several Vatican departments, including the Vatican Congregation for Eastern Churches, and he assisted Rome in the formulation of a 2001 declaration concerning the Eucharist of an ancient Middle Eastern Church that was in communion with neither Rome nor the Eastern Orthodox world.
Born in Providence, Rhode Island, on January 9, 1932, Taft was a distant relative of President William H. Taft and Sen. Robert A. Taft of Ohio. He entered the New England Province of the Society of Jesus, and spent three years of his formation teaching at Baghdad Jesuit College in Iraq. It was there, apparently, that he developed an interest in Eastern Christianity.
He returned to the United States in 1959 and pursued a graduate degree in Russian at Fordham University. He was canonically transferred to the Russian Catholic Church, and was ordained a priest in 1963 in Sant'Antonio Abate, the church attached to the Russicum, the Jesuit-run college for Russian studies in Rome.
Fr. Taft pursued his interest in Eastern liturgy at the Pontifical Oriental Institute, where one of his fellow students was a Greek Orthodox deacon, Bartholomew Arhondonis. The two would remain friends, even after the deacon went on to become a priest, bishop, and spiritual leader of the world's Eastern Orthodox Christians, Ecumenical Patriarch Bartholomew I of Constantinople.
In 1975, Fr. Taft began teaching at the PIO, as it is known according to its Italian initials, retiring in 2011.
In a profile on the Jesuit priest, journalist William Bole noted that Fr. Taft "crossed ecclesiastical cultures as few have, helping to reverse centuries-old suspicions between Eastern and Western Christianity." Bole said that Taft used his scholarship and gift for languages to "unearth ancient commonalities" among various traditions in East and West.
A noteworthy contribution to the Vatican's relations with other Christian Churches came in 2001, when he argued that the Assyrian Church of the East, which dates to the early centuries of Christianity, has a valid Eucharist, even though its Eucharistic prayer does not include the words of institution ("Take, eat, this is my Body…. this is my Blood"). Taft's conclusion was that the Eucharistic prayer, the "Anaphora of Addai and Mari," contains the words of institution "virtually, in explicit references to…the body and blood and sacrifice of Christ" and other Eucharistic essentials, Bole wrote.
Subsequently, the Vatican decreed that members of the the Chaldean Catholic Church could receive Communion from the Assyrian Church of the East and vice versa if they could not get to a liturgy in their own Church or if one of their clergymen was not available. This is a situation experienced particularly by those who have emigrated from the Churches' ancestral homelands in the Middle East to Europe and North America and other parts of the world.
The Vatican decree "recognized the validity of the Eucharistic Prayer of Addai and Mari in terms of it being a consecratory prayer, and the rationale is very simple, that the theology of a moment of consecration was something that was crafted much later, and everybody at that time, when this anaphora was adapted, believed that it was consecratory," Fr. Mark Morozowich, Dean of the School of Theology and Religious Studies at the Catholic University of America, said in an interview. "Therefore we cannot go and place a judgment from a different period of time on a previous document."
Fr. Morozowich, who earned his doctorate at the PIO under Fr. Taft's direction, said his professor's work on the Assyrian question was "crucial and foundational" to the Vatican decree.
But Taft's work related to the Byzantine tradition was better known. He published a total of 34 books, including the multi-volume History of the Liturgy of St. John Chrysostom and Liturgy: Model of Prayer – Icon of Life.
Prior to Fr. Taft's work, much writing on the Eastern liturgies had a "popular" tone to it, said one of his students, Jesuit Father Steven Hawkes-Teeples, in an interview. "They often covered a lot of material with relatively few sources, sometimes quoting only Slavonic or only Greek sources," said the priest, a former professor of theology at the PIO.
"The 490 pages of [Fr. Taft's 1975 work The Great Entrance] exhaustively analyzed only about 15 minutes of the Byzantine Divine Liturgy, but used every known published or manuscript source available anywhere in the world," said Fr. Hawkes-Teeples. "Among many other points, he finally established that an Offertory after the Liturgy of the Word had not somehow disappeared from the Liturgy of St. John Chrysostom; it never existed in the Byzantine or any other Eastern liturgy. The offertory procession of the faithful bringing their gifts to the altar at the beginning of the Liturgy of the Eucharist is purely and exclusively a Western liturgical phenomenon. After GE, most liturgical scholarship sought to emulate the level of scholarly analysis found in GE and Fr. Taft's other writing."
Fr. Peter Galadza, one of Taft's students and director of the Metropolitan Andrey Sheptytsky Institute of Eastern Christian Studies at the University of Toronto, said that the Ukrainian Greek Catholic Church, of which he is a priest, owes a special debt to him.
"As the Church emerged from the underground in the late 1980s and early '90s, he was passionate about exposing the folly of the old Ostpolitik," said Fr. Galadza in an interview. "And the Ukrainian Catholic University in Lviv would not be where it is today without his long-time support on the Vatican front."
In recognition of Taft's solidarity with Catholics persecuted under Soviet rule, the Ukrainian Catholic Church made him an archimandrite, giving him the right to wear a mitre and carry a bishop's staff.
In addition to his scholarship, Fr. Taft was known for his tell-it-like-it-is style. At the podium or in a media interview, he did not attempt to fit into anyone's definition of piety or reverence. In a 2004 interview with John L. Allen Jr., then the Rome correspondent for the National Catholic Reporter, Taft was probed about the reasons the Russian Orthodox Church might be upset by the prospect of a patriarchate for Ukrainian Catholics being established in Kyiv, the capital of Ukraine. The Russian Church also traces its heritage to Kyiv, where Prince Vladimir accepted Baptism in 988.
"To attempt to apply rational analysis to this is to fail to understand what the East is," Taft declaimed. "Once you get over on this side of the Atlantic Ocean, the further you go South or East from anywhere, the worse everything gets, except the food. Logic gets worse, rationality gets worse, and everything ultimately winds up in hysteria and emotionalism. It's futile to try and reason about this."
The interview caused considerable consternation in the Vatican and elsewhere.
"Fr. Taft went into the interview with the notion that this was a 'background' conversation, giving to the reporter Taft's reflections on a wide range of issues," Fr. Hawkes-Teeples said. "In contrast, Mr. Allen took it to be a conversation to be quoted verbatim. Orthodox officials in Moscow were furious at Taft, while Ukrainian Catholics were ecstatic that a knowledgeable scholar had finally told the whole truth about them and all that they had suffered."
But Taft was embarrassed that his remarks caused such difficulties, Fr. Hawkes-Teeples recounted. "In particular, he also had no desire to aggravate tensions with the Russian Orthodox Church. He had only told the painful and bitter truth in uncompromising terms. He did regret that he had not stated things in more diplomatic terms."
Read more:
Russian Orthodox Church breaks with Ecumenical Patriarchate
Though his demeanor could be disarming, Taft went above and beyond for his students, as several people have recalled. Fr. Galadza said that while many people know of his outstanding scholarship, few may have been aware of his commitment to students.
"Bob, who was already stretched beyond capacity, would spend countless hours helping aspiring scholars get published," he said. "He would patiently vet manuscripts, and direct them to the right journals. And for a man of his stature, it's amazing how he enjoyed spending time with students. If he were on Christmas break, for example, he would look up his former students wherever he was and drive considerable distances to visit them."
Fr. Galadza's son, Daniel Galadza, who teaches at the University of Vienna, was Fr. Taft's research assistant at the PIO in his last years there and for a short while after he returned to the US. "Although he didn't teach anymore since 2008, he taught by example," the younger Galadza said in an interview. "He was in the chapel of the Russicum every day for Divine Liturgy at 6:30, arriving before 6:00 to prepare in prayer and to light candles and charcoal for the incense (a task which the seminarians were supposed to do). He was in the library every day from its opening at 8:30, staying beyond closing time at 6:00 pm (with a short break for lunch). He came to Vespers every Saturday evening and sang in the choir, not thinking it beneath him.
"He would also say that it is impossible to lead a normal prayer life if you don't go to sleep early," Galadza remembered.
Fr. Taft also had some things to say about Western Catholicism. While he defended the post-Vatican II liturgical reform in the Latin Catholic Church as a move to return the liturgy to all the faithful, he complained about innovators who had no authority to improvise during Mass. And he pointed to the Byzantine tradition as one that had remained faithful and therefore continued to spiritually feed its adherents. In a 2008 article in America magazine, he wrote:
… Eastern liturgy has remained a stable, holistic, traditional synthesis of ritual and symbolic structure that permits liturgy to do what it is supposed to do without the self-consciousness of present-day liturgy in the West. There is a sameness, familiarity and repetitiveness at the very basis of day-to-day human culture, and Eastern tradition has retained this. Men and women who wish to gather to praise God need regularity and consistency in their prayer, which is why people object to having their worship changed every time their pastor reads a new article.
"Fr. Taft certainly believed in the value of the Roman papacy and of the Eastern and Western Catholic Churches, but he never shied away from criticizing the disastrous mistakes of the Holy See, such as in the Crusades and in more recent times," Fr. Hawkes-Teeples said. "For him, loyalty to Christ's Church was never to be measured by clinging to pious legends. One serves the Church only by the truth, especially when it is uncomfortable."
Bishop Borys Gudziak of the Eparchy of Saint Vladimir-Le-Grand for Ukrainians in France, Switzerland, and the Benelux Countries and president of the Ukrainian Catholic University, will preside and preach at the funeral for Fr. Taft, to be held at the Campion Center in Weston, Massachusetts, on Monday, November 12, at 10 am.