Hunters can call upon the intercession of St. Hubert for a hunt that respects the natural world.
November 3 is the feast of St. Hubert, patron saint of hunters. It also lands in the middle of a major hunting season for many residents in North America. This connection offers a perfect opportunity to reflect on ethical hunting practices and to pray for an "honest hunt" through the intercession of St. Hubert.
While he initially skipped Mass to go hunting, St. Hubert experienced a profound conversion when God said to him, "Hubert, unless you turn to the Lord, and lead a holy life, you shall quickly go down to hell."
This greatly impacted him and he became a strong promoter of ethical hunting practices in his lifetime. Hunters everywhere can look to St. Hubert for inspiration, taking God with them on their next hunt, as God pursues their own soul in the great "hunt" of life.
Below are a few prayers written by Fr. Mitch Pacwa that can be used by hunters everywhere, sanctifying their activity, wisely using the natural resources that God has given humanity.
Prayer to be an honorable hunterBy the grace of God may I always honor, thank and adore the Lord God who created the animals and saw that each species was good. Let me love the God who made humans in His own image and likeness and set them over the whole world, to have dominion over the fish of the sea, and over the birds of the air, and over the cattle, and over all the earth, and over every creeping thing that creeps upon the earth (Gen 1:26). By my honorable conduct as a hunter let me give a good example and teach new hunters principles of honor, so that each new generation can show respect for God, other hunters and the animals, and enjoy the dignity of the hunt.Prayer for honest huntLord, may I make an honest count of game, respecting the legal limits of game in order to preserve the balance of life and death among the animals. May I so love the truth that I always give an honest recounting of the hunting stories while keeping them interesting to my friends. May I also listen to my friends' stories with enjoyment and without envy.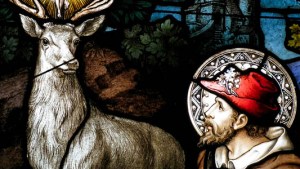 Read more:
Going hunting? Don't forget your St. Hubert medal!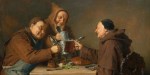 Read more:
In the 1600s, monks brewed beer for a liquid-only Lenten fast