The cost of cognition is measurably higher in the colder months ... but that doesn't have to be a bad thing.
Need an idea for Lenten almsgiving?
Help us spread faith on the internet. Would you consider donating just $10, so we can continue creating free, uplifting content?
Make a Lenten donation here
Here in Texas winter is in full swing. True to form, we skipped over fall entirely and went straight to cloudy skies and freezing winds … and also true to form, my mood took a straight nosedive.
It's been years since I've experienced any actual change in seasons. In Florida, it would get slightly less hot during fall and winter — a temperature change I welcomed, even if I (foolishly) believed that I missed true winter. But the sun was always shining, which served as a natural and essential mood-stabilizer for me.
But knowing how attached I am to sunlight (and heat, apparently), I was mentally prepared for the mood suppression that winter would bring. What I wasn't prepared for was the fact that as soon as the temperature dropped, so did my ability to concentrate.
At first I chalked it up to lack of sleep, lack of exercise, and general blahs. So I made sleep and exercise a priority and refocused on good nutrition. And those things helped my mood … but they did nothing to help my mind. Try as I might, I simply cannot perform tasks as efficiently and effectively as I had mere weeks ago. My mind wanders and I feel scattered, distracted, and restless. It is the weirdest — and most annoying — seasonal shift I've ever experienced, and I really thought I was imagining it or misattributing the cause.
But nope. According to a Belgian study featured in a recent Better Homes and Gardens article, our brains have to work harder to concentrate during the winter:
While their test scores were stable throughout the seasons, the researchers found that the "cost" of cognition (or the neural resources the participants had available) changed depending on the time of year. Turns out, we have less brain activity around cognitive tasks like attention in the winter versus in the summer, and more brain activity around memory in the autumn than in the spring. The scientists couldn't say exactly why our brains work differently in different seasons, but suggested that more basic tasks, like attention, could be related to environmental changes, like day length, while more complicated tasks could be tied to more complex causes, like social interactions.
I honestly can't decide if this is reassuring or distressing news. On the one hand, I'm not losing my mind, so that's a win. But on the other hand, I can look forward to enjoying several months of winter-induced brain fog, which is manifestly not a win.
Despite the inconvenience, it does make sense that our cognitive function would slow during the winter months. After all, our metabolism also slows down, an evolutionary mechanism that allowed our ancestors to retain fat and survive the winter months when food was scarce. It may be that cognitive suppression evolved to serve the same sort of function — our brains might have adapted to slowing down in the winter when the days were shorter, spending more time sleeping on the long nights and less time being active during the shorter days. This adaptation could have been prompted by the fewer hours of daylight, but it might also have been a kind of survival mechanism … the brain's way of slowing the body down to preserve energy in order to survive until spring.
Regardless, there's no getting around the fact that for modern humans this seasonally-induced cognitive depression is nothing but a nuisance, unless we can find a way to embrace the rhythm of the seasons instead of fighting against it.
For me, this would mean accepting that I'm not going to be as productive in the evenings as I was during the summer, and organizing my time accordingly. If I can be intentional about using the daylight hours to work — preferably in the sun, if it's shining — then I can have the freedom to enjoy the early evenings with less cognitively-demanding tasks, like reading stories to my kids, folding laundry, and (this part is exciting) going to bed at 8 p.m.
Maybe this phenomenon is a win-win after all.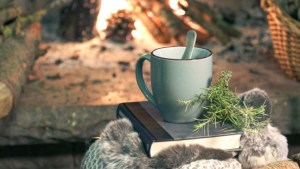 Read more:
5 Ways to practice "hygge" and banish your winter blues