It begins with finding inspiration in the infinitesimal.
Need an idea for Lenten almsgiving?
Help us spread faith on the internet. Would you consider donating just $10, so we can continue creating free, uplifting content?
Make a Lenten donation here
Has it been awhile since you've been truly inspired or overwhelmed with gratitude for something? Don't head for the beach, the mountains, or the symphony just yet — your next burst of inspiration just may be found in the smallest minutiae of your everyday life.  
Authors Georgia Lupi and Stefani Posavec of Observe, Collect, Draw!say that sometimes the best way to learn about oneself is by recording the smallest things about your life. Akin to a gratitude journal, but a bit deeper and more varied, this guided journal advises readers to record seemingly small things about their lives throughout their day. They suggest keeping track of the smallest things: the number of times they embrace their spouse, the types of conversations they have with loved ones and strangers, the clothes in their closet, the songs they enjoyed or even the weather and how it affected their mood each day.
Another thing they advocate recording? Sounds —ones that usually go unnoticed like the sound of birds chirping, the sound of children laughing, vehicles passing by, the wind, or even the sound of your own breathing.
After you study your personal data, you know yourself better — and can use this knowledge as inspiration for creativity. The authors encourage readers to turn their data into abstract art, or even pie charts, tables, grids, shapes or symbols. They say that while the details of your day, your home, your thoughts, and your heart might seem disjointed or unimportant, they're all telling the story of you.
Sometimes it can be difficult to see God moving in our lives — often we are so busy we don't stop to thank Him for answered prayers, small blessings, or moments of peace that can only be from Him. Instead we spend precious moments worrying and fretting about things that are often out of our control anyway. But perhaps recording these seemingly small things about our lives will point us to a greater understanding and appreciation for God's very real presence in our lives — in the hills as well as in the "valleys."
So give it a try: perhaps start small, with a tally chart in your kitchen of how many times you were able to see something beautiful, or holy, or how many times you felt peace or love during the day. As you continue recording the small things, it's likely you'll find more reasons to thank God, to be grateful, to enjoy even the smallest blessings He gives. And why not go ahead and turn it into art? According to the authors of this beautiful little book, it will teach you about yourself, it's bound to be fun, and it may just be transformative.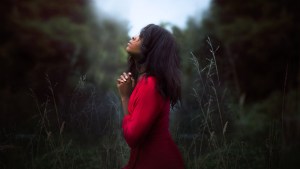 Read more:
6 Steps for making gratitude part of your daily life