This, too, shall pass -- and it's an opportunity to build inner strength.
Everyone has experienced being alone at some point in life. And just as humans are all different, so is the way we each experience it. For some, being alone is temporary, the painful result of difficult circumstances (perhaps a breakup, or moving somewhere new); for others, it's a permanent state of loneliness that can feel poisonous.
But regardless of how long we are alone for, it take on two forms — a healthy one and a destructive one. The form it takes can make all the difference, and will depend a great deal on how you handle it — on your attitude and on whether or not you willingly accept the situation you find yourself in.
Acceptance is one of the biggest keys to finding relief because it allows you to acknowledge and face what's going on inside and around you. Avoidance, denial, or repression are coping mechanisms that are all too easy to slip into and do make you feel better in the very short term, but only create frustration, tension, stress, sorrow, and anxiety in the end.
Perhaps the most common of these coping mechanisms for loneliness is avoidance. That is to say, ignoring the desire to socialize with others, or trying to convince yourself that you're happier in your solitude. For example, you might forget about family events or get-togethers with friends; you might isolate yourself subconsciously or even intentionally. A person in this situation might frequently feel shame, guilt in relationships with friends, and a lack of confidence. This is a direct path towards loneliness as a lifestyle. 
The next is denial — trying to convince yourself that you are not actually feeling lonely. Not accepting that you are lonely carries the risk of various kinds of addictions, such as drinking alone every night or excessive amounts of time on the internet or watching TV. But these "solutions" tend to increase your isolation, which can lead to a life on the margins of reality. 
That sounds dramatic, but denial is an easier habit to fall into than you might think: Living alone can often be easier than living with others because you can live the way you like. You don't risk hurting anyone; there's no one to argue with, there are no commitments. You can be yourself. No one limits you, judges you, or criticizes you. And so you could sink further into the logic that you prefer to be alone.
Of course, there's a flip side to all of this: sometimes being alone can be beneficial, in the same way that silence can help you find peace. Alone, you can see yourself more clearly. You can grow, learn, and understand yourself, rediscovering who you are. You can listen to your own needs, and explore your passions and hopes without fear of judgment. You can live in harmony with yourself, and have time for what is important to just you. Because of all of these reflective properties, some people consciously choose solitude, for the sake of a mission or a passion — adventurers, sailors, and lay missionaries, for example.
And many of the people who choose the path of solitude say it allows them to mentally organize the past. A little distance from relationships can help a person see those relationships more clearly, without getting caught up in emotions. But when a person chooses solitude, it is most often a temporary and positive situation — one where you might need to be alone to experience your own thoughts and feelings, or abandon old ways of thinking.
Choose the right direction
So there are certainly two sides to being alone. One can be reconstructive, the other destructive. And though you can't always prevent it from happening, there are ways to help your alone time be more healing than harmful.
The first thing to try to remember is this: Don't panic. When you grow anxious, it's a slippery slope to thinking the situation is a dead-end you cannot escape. That crazed thinking only promotes further emotional instability, leading to all sorts of feelings like impotence, sadness, and resignation, and sometimes even depression.
The fear and despair behind this type of panic can also lead to a variety of impulsive actions, such as desperately going in search of new people to be around, dedicating hours to online chat rooms or Internet dating sites. But these can bring you closer to people you might otherwise never associate with, establishing superficial and even toxic relationships — just to have someone in your life.
Dr. Sean Seepersad Ph.D., founder and president of the Web of Loneliness Institute — a non-profit organization dedicated to providing information, research and support to lonely people — touched on a similar theme when noted in a Psychology Today article that "… establishing a romantic relationship merely as a way of escaping loneliness is likely to backfire." For anyone who feels like they are headed down that path, he recommends not only visiting the Web of Loneliness Institute's site and using it as a resource for fidning help, but also the Center for the Study of Interpersonal Acceptance and Rejection at the University of Connecticut.
So instead of working hard to cultivate uneasy relationships just to ease your loneliness, it may be better to devote that same energy into getting helpful information, reflection, and staying true to yourself. Start a journal, or maybe consider seeing a professional therapist. Allow yourself to acknowledge that you're going through a lonely time, and remind yourself that this, too, shall pass. And when you do talk to people try to talk genuinely, and push yourself to use this time as one of self-discovery, and inner-strength. Because even if you didn't choose to be alone you can choose how you deal with it.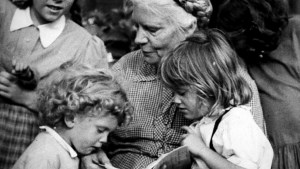 Read more:
4 Ways Dorothy Day overcame loneliness — and so can you