Why do we absurdly fail to apply our scheduling technology to the one thing we believe most necessary?
Send us the names of your loved ones who are sick or suffering. The Aleteia prayer network of 550 monasteries will take them to prayer for the World Day of the Sick.
Click here to share your intentions
The Word of God is one of the normal, ordinary, and effective means by which the Holy Spirit wishes to teach us to pray.
This Aleteia Series is looking at the Signs from John's Gospel as concrete lessons in prayer, taught by the Holy Spirit Himself.
See the introduction and the First and Second sign below:
Read more:
What is Jesus doing in the tabernacle? The Bible's answer
Read more:
If the Holy Spirit is your teacher, here is his textbook


Read more:
What memory has to do with learning how to pray


The third sign: An ordinary prayer life
The third sign in the Gospel of John immediately follows the second sign, and it takes place in the context of Christ's own prayer life: "After this, there was a feast of the Jews, and Jesus went up to Jerusalem."
Note well: a "feast of the Jews" is not your town's fall festival with pumpkins, carnival rides, and bounce houses. This feast was a spiritual event, part of the liturgical year of the Jewish people. It is not clear from the text exactly which feast was involved—perhaps it was Passover, or perhaps Pentecost—but either way we see Jesus keeping holy the sabbath by joining in the prayer of the people of Israel.
We are, in other words, given just a glimpse of the orderly prayer life of Jesus. While Christ would often pray spontaneously, or sometimes pass whole nights in prayer, we should in no way conclude that he disdained the practice of scheduled prayer. Instead, we are also told in places like Luke 4:16 that it "was his custom" to go to the synagogue on the Sabbath and to go to Jerusalem for major feasts.
We are immediately presented with a contrast in the story of the miracle that follows: It begins with a failure to observe the normal order of spiritual practice.
At that time in Jerusalem there was a pool named Bethesda that was reputed to have healing properties whenever its waters would move. Jesus encounters a man there by the pool who has been ill for 38 years. Christ then asks the sick man what seems a strange question: "Do you want to be well?" However, as the story unfolds, we see that the Lord's question makes sense, for this sick man had not been getting into the water at the appointed times. For a man wishing to be healed, he was behaving in a seemingly irrational, disorderly way.
However, as the sick man then explains, he has trouble moving and no one to help him, so he cannot reach the water in time. He wants to be healed; he just lacks the ability to observe the normal routine. And so Christ heals him, instantly, after 38 years of suffering: "Immediately the man became well, took up his mat, and walked."
In our prayer lives, we are often quite a bit like this sick man. We know prayer is important. We know we need to pray in order to be healed of our ills and strengthened by God. Yet "life happens," and we find ourselves failing to pray, again and again (perhaps even for 38 years)! However, unlike the sick man by the pool of Bethesda, most of us could do a better job of moving ourselves to the "living water" that is Jesus Christ.
Part of the problem, I would suggest, is that we often fail to take advantage of the power of a schedule when it comes to prayer.
We know the importance of scheduling when it comes to work and health. We use scheduled alarms to wake ourselves up in order to get to work on time. We allow our dentists to schedule our next cleaning in six months, or our doctors to schedule yearly check-ups. We schedule meetings during our work days, and then schedule follow-up meetings down the road to make sure progress is being made on important projects. In short, most of us have gotten pretty good at scheduling: It is part of the price of admission to the increasingly hectic world in which we live. Important things must get scheduled. What is not on the schedule does not happen.
But therein lies the absurdity: When it comes to prayer, the most important thing, the "one thing necessary," we presume it is just going to magically happen.
Why not apply our amazing scheduling know-how to prayer? Here's a basic plan: Establish a daily time to pray. Plug it into the calendar. Set an alarm on the phone as a reminder. When the alarm goes off, and some other crisis has arisen, don't turn the alarm off: hit snooze. Maybe over and over—but don't turn the alarm off until you actually find time to pray.
Once you have made a habit of daily prayer, you could even get fancy and map out an extended schedule of prayer: brief daily prayers, extended prayer (maybe a holy hour) once a week, a longer morning or day of reflection every 3-4 months—whatever works for your life. The point is this: God did not give you amazing scheduling technologies merely to ensure that you never miss a meeting. Use the power of scheduling to cultivate your relationship with God through prayer.
Read more:
How 15 Minutes of Prayer Can Change Your Life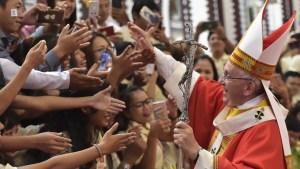 Read more:
Just 2 min a day with the Gospels, and your life will change, says Francis