Bring on the plants, colors, and natural light. You need it more than you realize.
Most cubicles or offices are rather spare and minimalist (hello, rows of fluorescent lights, inoffensively cream colored walls, and gray-beige carpeting). But studies have shown that drab decoration leads to drab performance. People need abundant natural light, colorful decorations, reasonably comfortable furniture, and a bit of privacy.
A few small adjustments can add a touch of beauty and grace to the workplace. But above all, they can help your mood and mental health, and can even make you more productive.
Read on to find four easy fixes to make your office feel more like a home … although it will never be truly your home.
1. Add office plants
You don't have to go totally wild with your English garden fantasies, but even just a few beautifully arranged plants on your desk – or if you have an actual office, a real potted plant or tree – can make a big difference in your happiness and productivity.
An Exeter University study found that bringing plants into the office can increase productivity. Apparently workers were "15 percent more productive" when there were plants in the office. (Who knew?) Having just one plant per square meter improved memory and employee performance on basic tests.
Our psychologies also benefit. A 2010 study by the University of Technology in Sydney found spectacular results when plants were introduced into an office setting, with a 37 percent less reported tension and anxiety; a 58 percent decrease in depression or dejection; a 44 percent drop in anger and hostility; and 38 percent less fatigue.
Plants can also reduce the amount of sick days we need: a 1990s study by the University of Norway found that introducing plants into an office reduced symptoms of ill health by 25 percent.
The bottom line? Get a plant for your office already!
2. Bring in touches of color
We may think we are these very cerebral beings who can operate without being affected by our surroundings and by the beauty or drabness that surround us, but this is totally untrue. We are embodied beings who need color, beauty, and light to be happy.
A study by the University of Texas found that gray, beige, and white offices caused feelings of depression and sadness, especially in women; other studies likewise showed that colors increase our sense of happiness and productivity.
Color theory is a fascinating field of study – its basic premise is that colors are either active, passive, or neutral in the way they affect our mood. Red pumps up the energy; yellow is stimulating and optimistic (but should not be used for main color schemes – apparently too much yellow can be enervating); blue is calming and relaxing, although dark blue can be depressing; green is restful for the eye and can relieve stress. Light purple can also be restful, while orange sparks excitement and enthusiasm (that's why it's often used in gyms or workout rooms). Black evokes sophistication, and silver is linked to a sense of technological innovation.
You are probably not going to be painting your office walls anytime soon, but you may want to add decorative accents in some of these colors to liven up a drab space. Choose colors that make your heart sing – even if they are just in small doses, like picture frames or a mouse pad.
3. Up your organizational game
It's always fun to browse websites like the Container Store or fantasize about becoming one of those ultra-organized people who actually know where all of the safety pins in their life are stored away. But even if you're a naturally messy person, do give some thought and consideration to the idea of making your work space more organized.
You might think clutter is just part of how you roll, but it's probably holding you back in ways you don't even realize. Psychological studies have found that clutter is a source of stress and anxiety and can contribute to an overall sense of being overwhelmed, falling behind, and losing control.
Clutter is also associated with unhealthy eating, lower mental health, and less efficient thinking. So … yes, it matters.
Conquering office organization doesn't have to be like finding the Holy Grail. Just tackle one small thing at a time. First get a file folder for the papers that you typically pile up … then a little cup to hold your pens and pencils … then a notebook to jot down all the things you have to do. And so on. One step at a time!
4. Include touches of family and faith
Personalizing your office space can also mean bringing in a few pictures of your loved ones and maybe a symbol of your religious faith.
Kimberly Elsbach, professor of organizational behavior at the UC Davis Graduate School of Management, said that when people are allowed to personalize an office space with pictures and mementos, they work better together as teams. Basically, we don't want to feel like impersonal, atomized drones … we know ourselves to be not just workers, but mothers, sisters, friends, and daughters. Our real life is defined not by how productive we are or by how much we help the company's bottom line, but by the relationships in our lives. Pictures, even just a few framed photos or a couple thumbnails taped to the bottom of the computer monitor, help remind us of that.
In the end, office décor isn't just a superficial activity, but fundamentally a humanizing one. We decorate not just to add touches of beauty to a space, but to make the space reflect the fact that a person – not just a worker bee – occupies this place.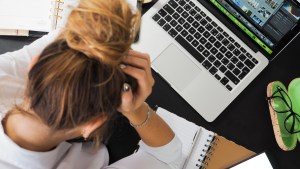 Read more:
Do you have what it takes to work at home?