Their decision was disappointing for many ... but it's about putting the baby first.
After my husband and I became parents, I was (among many other things) very surprised by just how much of a process everything became when we had a baby with us.
When it was just the two of us, we could decide on a whim to head somewhere and within 30 seconds we were in the car en route. But with a newborn in tow, we had to figure out if she should be fed before we hit the road or once we reached our destination. We had to check her diaper, ensure the diaper bag was stocked with extras, and is she warm enough? Should we bring the Bjorn or stroller or both?
Leaving the house suddenly became a chore requiring much more from us than it had in the past. To add to the stress, our first baby was born right around Christmas so there was no shortage of family gatherings to attend. We're very blessed with a large family living close by, but ultimately, during those days that we were first settling into parenthood, it tended to be far less stressful when we just stayed cozy at home.
Because of this, I was glad to read that first time expectant parents Meghan and Harry, the Duke and Duchess of Sussex, decided to postpone their US tour to give themselves more time to just be at home with baby. With their little one due in the spring, the couple has decided not to travel until next fall. As International News explained, "Putting motherhood over anything, the royals have put the U.S. tour on hold until Fall 2019 – which means the royal baby would be six months old when the couple will introduce the new member."
Originally, Meghan and Harry had planned the tour for the spring, meaning they would have been traveling overseas with a newborn. Instead, they're freeing themselves of any obligations during those precious first months.
I've seen lots of new moms out and about with their newborns shortly after birth and for many women, that works. But for those like me who are already homebodies at heart, staying snuggly at the house with a new bundle is optimal. Either way, if you'll have a newborn around Christmastime, don't be afraid to RSVP "maybe, depends on baby" to events. Any gracious host will understand.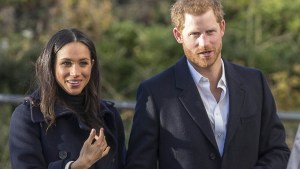 Read more:
Future princess Meghan Markle looks to her Catholic education for inspiration