Gravely injured in a skiing accident in 2013, the former racing star is cared for by his family.
This month marks five years since the terrible accident involving the German race car driver Michael Schumacher on the ski slopes of Meribel, in the French Alps. Little is known of the evolution of his health, as the family prefers to remain silent and dedicate themselves to the care that the Formula 1 star now needs.
Surprisingly, however, the silence has been broken, and in a positive way, thanks to a person not given to gossip and the activities of paparazzi — the Prefect of the Pontifical House of the Holy See and personal secretary of Benedict XVI, Georg Gänswein. He recently broadcasted some news about "Schumi."
The German archbishop, who in his day was a ski instructor, granted an interview to Bunte Magazine (a Germany weekly) in which he explained, among other things, how his visit to the seven-time world champion went.
"I sat in front of him, I touched him with both hands, and I looked at him. His face, as we all know, is the typical face of Michael Schumacher; only that it has become a little more puffy," explained the archbishop.
Monsignor Gänswein expressed his deep affection for the sick man, who is now 49 years old: "He feels that around him there are people who love him, who care about him and, thank God, keep the curious public away. A sick person needs discretion and understanding." Schumacher is permanently accompanied by his wife, Corinna, who has shown great love and strength, and by his two sons.
It has also been revealed that both Corinna and the couple's children traveled to Rome in the summer of 2017 and were received by Pope Francis. Gänswein's visit to Schumacher occurred earlier, in the summer of 2016.
"The family," Monsignor Gänswein explained, "is the protective nest that Michael desperately needs. His wife is the soul of the family." That visit in 2016 was not an isolated event, and the archbishop is still in close contact with them: "Of course, I include Michael Schumacher and his family in my prayers.Christmas is the feast of the birth of Christ, of divine love made man.Feeling it is good and necessary," he declared.
Michael Schumacher will turn 50 on January 3, 2019. Meanwhile, his son Mick, 19, has already announced that he is joining Formula 2 with the intention of following in his father's footsteps, for which he wants to be well prepared as a driver. This was reported by the German press, including in Bunte in recent days.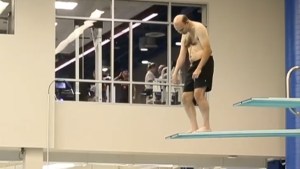 Read more:
Every year, this paralyzed diver takes one jump off the diving board