What are they? Do they relay a secret Catholic code?
One of the most popular traditions surrounding the celebration of Jesus' birth is the "Twelve Days of Christmas." While many are familiar with the famous English carol, few realize the real history behind it and the days it commemorates.
While for many in modern culture the Christmas season begins after Halloween, Christians traditionally celebrated Christmas starting on December 25 and extending many weeks after it into January.
In the Catholic Church, for many centuries there has been a tradition of celebrating an "octave" of Christmas, extending the festivities of Christmas for 8 days following December 25. In addition to this custom, there grew a separate tradition of the "Twelve Days of Christmas."
This involved the 12 feasts after Christmas ending on January 6, Epiphany, also known as the "Twelfth Night." (Note: A separate tradition numbers the 12 days beginning with Christmas Day, December 25, and ending on January 5, the eve of the Epiphany.) Here are the 12 days, starting on December 26, and the historical feasts on this day.
December 26: St. Stephen (First Martyr)
December 27: St. John the Evangelist
December 28: Holy Innocents
December 29: St. Thomas Becket
December 30: St. Egwin of Evesham (or 6th day in the Octave of Christmas)
December 31: St. Sylvester I
January 1: The Circumcision of Our Lord (Octave Day of Christmas)
January 2: Holy Name of Jesus
January 3: Sts. Zosimus and Athanasius (or Octave Day of St. John)
January 4: St. Aquilinus (or Octave Day of the Holy Innocents)
January 5: Vigil of the Epiphany (and St. Telesphorus)
January 6: Epiphany
It wasn't until 1780 that there arose a carol in England called "The Twelve Day of Christmas." Some believe it is French in origin and over time it became a popular English Christmas carol. According to some traditions the carol is said to be a secret code that relayed the Catholic faith during a time of persecution in England.
However, there exists no firm evidence to back up this claim, and the theory is generally traced back only as far as the 1990s.
Whatever the case may be regarding the carol, the 12 days after Christmas remains a special time in the Church year to bask in the glory of the Incarnation and to celebrate with friends and family the coming of the Savior on Christmas Day.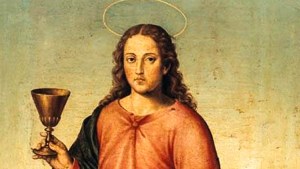 Read more:
Here's how to get your wine blessed on the feast of St. John
Read more:
Why is the visit of the Magi called the "Epiphany"?