At the end of a long day, ponder in your heart the many spiritual truths of Christmas.
The season of Christmas can be a hectic one, traveling and visiting with family and friends. In the midst of all the bustle, it's important to pause for a moment to remember the "reason for the season."
One way to do that is by ending each day with various prayers and reflections on the true meaning of Christmas. Dom Guéranger provides such prayers in his Liturgical Year, where he writes, "And that you may end the day in the same sentiments with which you began it, devoutly pay your homage to the divine Mystery of the Incarnation."
He suggests making an examination of conscience, "going over in your mind all the faults you may have committed during the day; think how unworthy sin makes us of the caresses and company of the Divine Babe; and conclude by making a firm resolution to avoid sin for the future, to do penance for it, and to avoid the occasions which might lead you into it."
Guéranger then provides the text of the Alma Redemptoris Mater, as a suitable prayer to end the day in the days after Christmas.
Sweet Mother of our Redeemer, gate whereby we enter heaven, and star of the sea! help us, we fall; yet do we long to rise. Nature looked upon thee with admiration, when thou didst give birth to thy divine Creator, thyself remaining, before and after it, a pure Virgin. Gabriel spoke his Hail to thee; we sinners crave thy pity.V. After childbirth thou didst remain most pure, O Virgin!R. O Mother of God, make intercession for us.O God, who by the fruitful Virginity of Blessed Mary hast given to mankind the rewards of eternal salvation; grant, we beseech thee, that we may experience her intercession, by whom we received the Author of Life, our Lord Jesus Christ, thy Son. Amen
The final prayer that Guéranger provides is a prayer that recalls the beautiful symbolism of the "light of Christ" and the darkness of night.
V. The Lord hath made known, alleluia!R. His salvation, alleluia!O God! who hast enlightened the most sacred of Nights by the brightness of him who is the true Light; grant, we beseech thee, that we who have known the mysteries of this Light on earth, may likewise come to the enjoyment of it in heaven. Who liveth and reigneth with thee for ever. Amen.
Continue to keep alive the spirit of Christmas in your heart and humble yourself before the Divine Child in the manger.
Read more:
Prayer of St. Therese of Lisieux to the Divine Child Jesus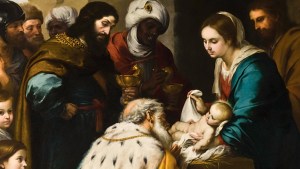 Read more:
Did St. Thomas the Apostle baptize the Three Wise Men?