Don't be fooled by the trendy new name -- it's really an ancient, simple way to maintain good health.
Have you felt your mood isn't precisely bright? Are you moody or blue? Are you lacking energy for your daily chores? You might want to answer the following question: How often are you in contact with nature?
Ecotherapy has been found to improve our mental state, particularly when it comes to reducing stress, anxiety, and depression — among other things. But, what is ecotherapy? As its name may suggest, it's a range of practices that involve regaining connection with nature in a mindful way, aimed to improve your overall well-being.
Being in contact with nature is something that, due to our current lifestyle, has been widely lost. By living in urbanized places, the sounds, the views, and even the aromas that nature has to offer have been exchanged for city sounds, construction, and artificial odors. Getting back to our roots, to nature, can really lift your mood, and improve your overall mind well-being.
"Taking part in physical activities in a green, natural environment can be a great way to improve our mental health and well-being," explained Stephen Buckley, head of information at the mental health charity, Mind. He said that research by Mind and the University of Essex found that 94 percent of people taking part in outdoor activities, like walking and gardening, found that it benefited their mental health. In addition, 90 percent of participants realized that the combination of nature and exercise was most important in determining how they feel.
Life changes, illnesses, social problems, and stress can really affect your mental well-being — and medication may not be right for everyone. Interacting with nature can really be a tool to improve your thoughts and therefore feel better from the inside out.
Although there's still a lot of research that needs to be done to fully understand the way nature can affect our mindset, a study by Stanford researchers suggests that after a nature walk people have lower activity in the prefrontal cortex, which is the brain region that is active when we are having repetitive thoughts that focus on negative emotions (called rumination). The loop of negative thoughts can lead to depression, high levels of stress, or other mental issues. However, being in constant contact with nature can prevent these thoughts, and can even have impressive cognitive benefits, such as increased memory performance.
Besides helping to fight depression, which will be the second largest single cause of poor health by 2020 according to the World Health Organization, interacting with natural spaces and sounds provides other benefits, such as lowering blood pressure, decreasing levels of the stress hormone cortisol, and helps distract your mind from worry. Ecotherapy can make you feel more grounded, allows you to have a different perspective on life and can help you relax. It's also useful to reduce anger, improve your mood, boost self-esteem, increase your emotional resilience, raise your energy levels, and relax your nervous system.
Reseach on ecotherapy even explains that outdoor activities such as river rafting, fly-fishing, or nature walks have helped veterans suffering from PTSD (Post-Traumatic Stress Disorder) because "they escape from usual settings and become fascinated by stimulation in natural ecosystems that take their mind off their day-to-day problems."
"Exercise in general is great for our mental health," Buckley adds. "It makes our bodies release hormones called endorphins, which make us feel good, while reducing levels of the 'stress hormone' cortisol, which has been linked to depression and anxiety, among other mental health problems. Exercising at a gym or in an urban environment is great for our mental and physical health, but the colors, sounds and smells of the outdoors stimulate our senses in a different way and can boost our mood even more."
Mind's research report, Ecotherapy: the green agenda for mental health, reviewed the mental state of a group of people after a 30 minute walk in a country park. Their research pointed out that 71 percent reported decreased levels of depression after the green walk, and said they felt less tense. Additionally, 90 percent had increased self-esteem, 71 percent said that they felt less fatigued, 53 percent felt more vigorous, and 88 percent saw an overall improvement in their mood.
How to take advantage of ecotherapy?
Stephen Buckley explains that there are many different types of ecotherapy, with something to suit everyone. "Some people might want to do long hikes or rock-climbing, for example, while others might prefer something as simple as going for a walk, gardening, or even bird-watching. Some people like to take part in outdoor activities in groups, which is a great way to combat loneliness and improve self-esteem, while others prefer doing it alone, giving them the chance to reflect in a relaxing environment."
In order for it to start showing improvement, it's recommended to engage in natural activities for 20-30 minutes, three days a week. There are different versions of this therapy; here are some:
Adventure or wilderness. Those who are keen on more vigorous activities might be interested in adding some challenging physical exercises, such as rafting, rock-climbing, caving, hiking, or camping.
Animal interventions. Spending time with animals can also help you feel more relaxed from just petting them, to feeding them, or doing activities together. You could spend time at a shelter, go horseback riding, or have a pet.
Green exercise. This type of therapy consists of exercising in nature. It doesn't have to be vigorous exercise, it just involves doing a physical activity, such as walking, running or cycling, outdoors in a natural setting.
Handiwork in nature. For those who aren't so keen on physical activities, this could be their cup of tea. Take an activity that you normally practice indoors, and take it outside. Do some art, create something with your hands, read, or sew. You might feel even more inspired.
Horticulture. Gardening or growing food, whether in a farm or in the comfort of your own yard, can really help you think about something else.
To start experiencing the benefits of ecotherapy, Mind experts share some tips to incorporate natural elements in your daily life:
Collect natural materials such as leaves, flowers, feathers, tree bark, seeds, and anything else that you like to decorate your home.
Create a comfortable space to sit in in your home where you can look out over a view of the sky or a tree.
Grow plants on your windowsills.
Take photos of your favorite places in nature and set them as your phone and computer backgrounds.
Try to do more everyday activities in front of a window.
Download some recordings of your favorite natural sounds, such as birdsongs or waves.
Think about whether owning a pet would be the right thing for you.
Build a 10-minute walk into your daily routine. Give yourself a sensory outdoor workout, and find things to look at, listen to, taste, smell and touch.
Enjoy an outdoor picnic, and sit under a tree in silence for a while, lean back against it and feel it supporting you.
If you do regular exercise such as running, jogging, tai chi or yoga, experiment with doing it in a local park.
Not too eager to go outside?
No problem, you can start by bringing nature inside. One study explains that "naturalistic environments have been demonstrated to promote relaxation and wellbeing." Therefore, listening to nature sounds can have a similar effect to going outside. The study describes that natural sounds help the brain direct focus and fight states of anxiety, stress and depression. Experts also suggests looking at pictures of nature settings to improve your mood.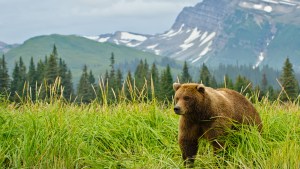 Read more:
Surprised by nature: Seeing God's glory in His creatures