Hint: it has nothing to do with expensive clothes and doesn't require a lot of money.
The renowned runway judge Nina García interviewed several fashion icons, among them the famous Italian designers Donatella Versace, Giorgio Armani, and the Domenico Dolce and Stefano Gabbana duo, asking them a simple question: What do they consider eternally elegant?
Rather than pointing to expensive things that only money can buy as the main criterion, the fashion experts spoke of discovering elegance by looking inside. Below is what each designer said about true elegance:
Giorgio Armani: Simplicity, self-care, and intelligence
"One could devote an entire book to this question. Another possibility is to respond in the shortest possible terms: elegance is the result of a natural balance between simplicity, taking care of oneself, and intelligence. All this generates that personal poise and special attitude we call elegance. It's a quality that, contrary to popular belief, doesn't require deep pockets."
Armani reminds us that fashion can be expensive, but real style is not. It's not about being photo-ready all the time. The elegant woman knows how to live in the simplicity of everyday life, even when not sporting perfectly matching clothes and the perfect hairdo. Beauty isn't so much achieved through outer perfection, as much as it is a result of learning to love oneself and acting intelligently.
Domenico Dolce and Stefano Gabbana: Self-acceptance
"In addition to the black dress and the stiletto shoes, elegance is definitely about one's inner style. A woman who accepts both herself and her environment … is refined, elegant, and sophisticated. "
When a woman knows and accepts herself, she can conquer anything. She'll appear elegant no matter where she is or what clothes she's actually wearing, if she feels comfortable in herself. She could be naked or in a party dress, yet her attitude wouldn't change much. This is a woman who knows herself, knows what her mission is, and knows what she wishes to communicate to the world.
Donatella Versace: Self-confidence and firm beliefs
"Without a doubt, the most stylish appeal a woman has is her self-confidence. Versace is a lifestyle that embodies many different interests and passions. It's almost impossible to create and carve out a path that is truly yours if you don't believe in yourself."
"The Versace woman is not only one who is secure in her personal preferences and style, but also one who is firm in her beliefs. The Versace woman follows her own customs. She may exhibit a certain je ne sais quoi – that unique I don't know what – but even if you can't quite describe it, you'll recognize that woman the moment she enters a room."
The elegant woman doesn't worry much about trends. She has enough confidence to wear what she knows suits her best. She knows herself and has faith, based on her own values ​​and firm convictions, and no need of emulating what is fashionable or what the outside world tells her she must wear.
There's something that the elegant woman possesses which, although you can't quite put your finger on it, attracts you and compels you to want to be close to her.
Read more:
An Anti-Photoshop Revolution? Verily's Take on Real Beauty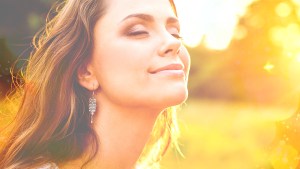 Read more:
How to cultivate interior elegance