Keep these 4 things in mind when it comes to parenting if you're easily drained by constant interactions.
I have six children, and I desperately love them all. I adore spending time with them, playing their elaborate, crazy, made-up obstacle courses, and hearing new selections from their original novellas about unicorns. I wouldn't even mind if we had more children. As long as they leave my stack of books on the coffee table alone and don't hospitalize each other, I'm pretty into the dad thing.
That said — and I'm not saying this proudly — there are times when daddy needs his space. They haven't done anything wrong, but I'm an introvert and mental health dictates that I need time alone. In the adult world, this isn't a problem because most people understand, but with small children the whole equation changes. Small children want all of you, all the time, and have no concept of boundaries. They want to be touching you, run their fingers through your hair, and they like to slam the back of their heads into your face. I cherish how much they love me, but sometimes I just want them to love me quietly, in their minds, from the other room.
So, am I a good parent? Should I feel guilty because I often need to shut the door to my room for half an hour?
I assume this question is even more pressing for mothers, especially mothers with babies, who are well-known for demanding attention pretty much 24/7. As cute as that little bundle of joy is, I get exhausted simply watching how much contact the baby has with my wife on a daily basis. There are times when a toddler is talking to me while I'm trying to read a book and – I'll go ahead and say it – I can't discover the energy to care. Not at all. I just can't engage in another toddler anecdote about that one time when she saw a squirrel fall out of a tree.
If you've ever felt this way — especially if you're an introvert or have a sensitive temperament — you aren't a bad parent. You're a normal human being.
Parents make sacrifices for their children, such as loving them even when they don't feel like it. It's okay to acknowledge that this is a sacrifice. And it's also okay to admit when we need a quick break. Introverts make great parents. If you're one of these, or an introvert thinking about having children but concerned about whether you can handle it, it's helpful to keep a few suggestions in mind …
Cultivate self-awareness
Introverted or not, a good parent is self-aware (although we introverts tend to be naturally good at self-awareness). It takes a bit of soul-searching and some trial-and-error, but the more we learn about ourselves, the less we have to fight against artificial expectations for what parenting should be and, instead, lean into the parts of it we really enjoy and do well. It's good for me to know my limits, what I do well, when I need space, and where I need to improve. That way, healthy boundaries can be drawn. This isn't selfishness, it's the first step in good parenting.
You may be the sort of person who needs structure, enjoys staying at home, and enjoys parallel activities like reading next to each other. These are all good things. You don't have to be the parent who goes to all sorts of group events, crowded sports stadiums, and carnivals if you don't want to be.
Don't try to be what you're not
I will not in a million years be the life of the party. I can try, sure, but it's exhausting. I also cannot be the constant entertainer of my children, or always ready to tell stories and play games. Although as a parent it's a duty I accept and oftentimes enjoy, I don't always have the mental energy. Sometimes I'll go ahead and act out the silly voices in a bedtime story even when I don't feel like it, but it's important to find time to re-charge.
We cannot give what we don't have, and if we want to give our children self-confidence, authenticity, and a happy life, then we need to actually possess those qualities in ourselves and not be drained. Be yourself, and your child will love you just the way you are.
Give yourself a break
We accommodate the personality quirks in those we love; that's part of the joy of knowing a person really well. Relax and allow others to do the same for you. Don't feel guilty and compare yourself to the extrovert dad who's coaching every team and the mom who gives perfect, lavish birthday parties. Introverts tend to be critical of themselves, but that only leads to a cycle of anxiety and feeling inadequate. Your kids will learn to love your uniqueness, I promise.
Use your strengths
Introverted parents tend to be low-conflict and thoughtful, we just need to remind ourselves to communicate a little more and not be passive. We value quality time. When we feel safe, we reveal a sensitive side, which is a good example for the children as they learn to negotiate their own sensitivities and emotions. Introverted people tend to be empathetic, which means we have good insight into how our children are feeling. All of these are strengths and make for good parenting.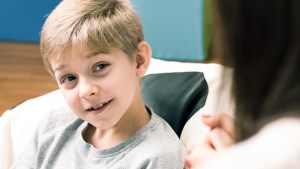 Read more:
How to help your introverted child handle emotional stress