And her testimony of courage led another child to do the same
Pope Francis praised the courage of a little girl who broke through security to bring him a letter during his trip to the United Arab Emirates: "That little girl has a future!" he said.
The pope spoke of the daring girl during his flight home from the UAE, when he was asked by a reporter if he'd yet read the letter she gave him.
He explained that he hadn't yet, as his team organizes the many letters he receives for him to read.
The pope spoke of her bravery and how the security guards had stopped her, but upon seeing her efforts, Francis had his driver stop the vehicle and encouraged her to come.
"I liked it," said Francis, who is always urging youth to keep dreaming, to continue to push forward, and to never resign themselves to difficulties. He joked about her spunk, quipping, "I dare say, poor husband!"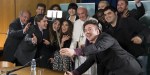 Read more:
Young people, break your mirrors! Know how to laugh at yourselves! Pope Francis recommends


"It takes courage to do that," Francis continued, "and then another one followed her; there were two — she (the second child) saw that one, and she (also) took courage."
The pope's comments came during the same press conference in which he lamented that humanity "still hasn't matured" in respecting women.
"The woman is [considered] 'second class,'" he said, noting how some cultures even permit femicide.
His observations were made in the context of a question about priests sexually abusing nuns, which the pope said is a problem particularly in certain cultures, and an issue the Church is trying to work against.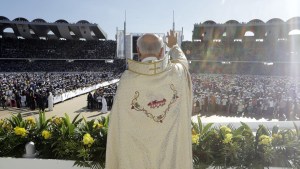 Read more:
An 800th anniversary: Another Francis writes new page of history with Islam