5 Principal titles each emphasize a different aspect of the sacrament.
In the Catholic Church, the sacrament commonly known as "confession," where an individual confesses their sins to a priest, is also called by a number of other names.
For those unfamiliar with the seven sacraments, all these names might be confusing.
According to the Catechism of the Catholic Church (CCC), the sacrament has five principal names, each with its own spiritual meaning. Catholics are free to use any of the names, emphasizing different aspects of a beautiful sacrament that brings sinners back into communion with God and each other.
Flip the cards below to learn the meaning behind each name.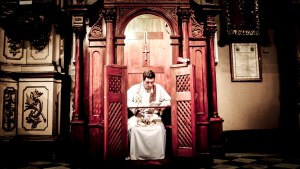 Read more:
How to go to confession, a step-by-step guide