Noah's actions were a foreshadowing of the salvation to come.
In the book of Genesis, we find the story of Noah, which tells about when God noticed the sinfulness of the people and sought to purify it with a flood. God then appointed Noah to build an ark that would save a faithful remnant, entrusting them with a mission to fill the earth with a new people who would be true to God's covenant.
However, even after the flood, humanity was still in need of a savior, and it wasn't until Jesus came into the world that a new "ark" was constructed to save people from their sins.
The St. Andrew Daily Missal explains the symbolism.
It was the wood of the ark which saved the human race and it is that of the Cross which in its turn, saves the world. "Thou alone," says the Church, speaking of the Cross, "hast been found worthy to be, for this shipwrecked world, the ark which brings safely into port."
Furthermore, "The open door in the side of the ark by which those enter who are to escape from the Flood, and who represent the Church, are as is explained in the liturgy, a type of the mystery of redemption; for on the Cross, our Lord had His sacred side open and from this gate of life, went forth the sacraments, giving true life to souls. Indeed the blood and water which flow from thence are symbols of the Eucharist and of Holy Baptism."
Read more:
What is Jesus doing in the tabernacle? The Bible's answer
Connected to the wood of the cross, Baptism is also seen as the new "ark" that saves humanity.
As the Catechism of the Catholic Church notes, "The Church has seen in Noah's ark a prefiguring of salvation by Baptism, for by it 'a few, that is, eight persons, were saved through water': The waters of the great flood you made a sign of the waters of Baptism, that make an end of sin and a new beginning of goodness" (CCC 1219).
Just as Noah was the "captain" of the ship that saved humanity, Jesus wakes up from his slumber and takes his place as captain of the Church, ushering all people to come upon the boat that will lead to their salvation.
This image is a perfect meditation for Lent, for as God sent rain upon the earth for 40 days and 40 nights, so too does the Church spend 40 days in preparation for the saving waters of Baptism at the Easter Vigil.
May we never leave the ark of our salvation and cling tightly to the cross of Jesus Christ, no matter what storm may come.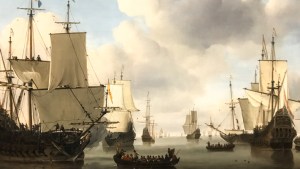 Read more:
Ships in art: Symbols of the Church and our pilgrimage to heaven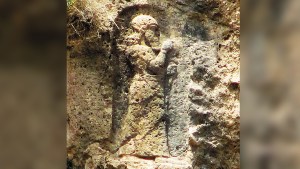 Read more:
Did Noah's Ark really land in the biblical Mountains of Ararat?