Here we are before one of the deepest mysteries in the Christian faith.
We live in a world of instant gratification and short attention spans. "If I can't get my answer in 280 characters, I don't want to hear it" seems to be the prevailing mentality. But when it comes to complex matters of faith, sometimes the short answer can be misleading.
I experienced this recently when giving a presentation on Divine Providence. With three minutes left in my allotted time, someone raised a hand and asked, "Well, how does this relate to predestination?" I tried to put the question off, saying that I couldn't do the subject justice in three minutes. But the group pleaded, "Give us something!" So I said, "All right. Do Catholics believe in predestination? Of course we do!"
Brows furrowed and a silent confusion hung over the room. This was a fairly well-catechized group, and I could guess what they were thinking. I continued.
"It is a dogma of the Catholic faith that the saved, the elect, are predestined by God to salvation. That's clear from Scripture, Tradition, and the constant teaching of the Church."
"But what about free will!?" someone burst out.
"I told you I couldn't do this in three minutes!" I replied. So I promised to do a full presentation on the topic the following week. 
In fact, predestination is a Catholic idea, and a Catholic word. I'm all about the project of reclaiming what is ours.
Scripture expresses very clearly the idea that those who are saved are "predestined" (Romans 8:28), that God "chose us in him before the foundation of the world" (Ephesians 1:4), that those who are the heirs of Christ "inherit the kingdom prepared for you from the foundation of the world" (Matthew 25:34).
Thus it is a dogma of the faith that "God, by an eternal resolve of His Will, has predestined certain men to eternal blessedness."
We know that we are saved only by the gift of God's grace. We know that God knows from all time who will be saved and who will not. So, what does this mean? That God only gives His grace to some people and not to others? That He simply chooses at random who will be saved? To put it most bluntly: If God predestines some people for Heaven, does that not imply that He also predestines some people to Hell?
On this the Church is firm: "God predestines no one to go to hell; for this, a willful turning away from God (a mortal sin) is necessary, and persistence in it until the end" (CCC 1037). This is a relief to hear!
The Catechism does point out that it is possible to willfully turn away from God, though the Church does not teach that any particular person is in Hell. We never know what God's mercy does in a person's life, even at the moment of death. But, for example, the CCC notes how Herod and Pontius Pilate are permitted by God to refuse his grace. The rich young man turns away sad, because he had many possessions. These are people who evidently turned away from Jesus, at least for a time. But that was their free choice, not God's.
Yet we still seem to find ourselves in a bind: We know that God's grace is a pure gift and cannot be earned; yet it would seem fundamentally unjust for God to withhold His grace from anyone arbitrarily, apart from any consideration of their actions—yet if we complained of not being given this gift, are we not then saying we are owed it? How do we escape this circle?
The Church also affirms unequivocally: God offers sufficient grace—that is, grace sufficient for them to turn toward God and away from sin—to all people. In other words, God offers the possibility of salvation to all people.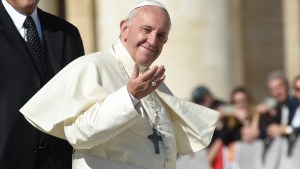 Read more:
"God has tattooed my name on his hand!" Pope Francis is blown away by God's mercy
This problem of the relationship between grace and free will, between God's gift and our choices, has always been one of the deepest mysteries in the Christian faith. Many different theories have been proposed as to how this relationship works (Thomism, Molinism, Congruism, among others), but despite the complexities and mysteries, we can be left assured of this: God predestines the saved to Heaven, but He does not predestine anyone to Hell. This is the error of John Calvin and others of the Protestant reformers, who, before the mystery of grace, mistakenly decided that Hell could be God's will for certain souls. But it most definitely is not!
Predestination is a deep subject touching on many aspects of the faith, and it cannot be done justice in three minutes or in 800 words. But as we wrestle with this mystery, we can rely on these wise words from the Doctor of Grace, St. Augustine:
He who created thee without thy help does not justify thee without thy help. (Sermo 169, II, 13)

God is good, and God is just. He can save a person without good works, because He is good. But He cannot condemn anyone without evil works, because He is just. (Contra Jul. III 18, 35.)

His mercy comes before us in everything. But to assent to or dissent from the call of God is a matter for one's own will. (De spiritu et litt. 34, 60)