Found in the Old Testament, these words are applied by many saints to the foster-father of Jesus.
Even though there are only a few verses that refer to St. Joseph in the entire Bible, many saints over the centuries have found striking parallels between the foster-father of Jesus and the first Joseph mentioned in the book of Genesis.
In Genesis we find Joseph, one of the 12 sons of Israel, who was abandoned and sold by his own brothers. Yet, God had mercy on Joseph and through God's divine providence, Joseph became vital to the survival of the Jewish people in Egypt. He ascended the ranks of Pharaoh's household and was appointed the head minister, in charge of managing the grain supply.
This proved to be a providential move, as Joseph used his foresight to prepare Egypt for an extreme famine, which eventually forced his own family to turn to him in their time of need.
Several saints have found inspiration in the following verse in Genesis that summarizes this desperate situation and what Pharaoh told the people of Egypt, "When all the land of Egypt became hungry and the people cried to Pharaoh for food, Pharaoh said to all the Egyptians: 'Go to Joseph and do whatever he tells you.'" (Genesis 41:55).
In Latin the words of Pharaoh are rendered "Ite ad Joseph,"a phrase frequently found inscribed on the bottom of statues of St. Joseph.
Dominican Br. Bartholomew Calvano explains the similarities between the two Josephs: "Just as through Joseph, the son of Israel, God provided food for the starving people of Egypt and his family, so through Joseph, the husband of Mary, did God the Father provide for the needs of Jesus."
Furthermore, "In the Gospels, Jesus Christ is born as an infant who needs to be fed, and just as the people of Egypt sought food from Joseph, the head minister of Pharaoh's household, so Jesus goes to Joseph, whom God has set over his own household, to receive the necessities of earthly life."
St. Teresa of Avila is among the many saints who encouraged devotion to St. Joseph. She wrote, "I wish I could persuade everyone to be devoted to this glorious saint, for I have great experience of the blessings which he can obtain from God. I have never known anyone to be truly devoted to him and render him particular services who did not notably advance in virtue, for he gives very real help to souls who commend themselves to him."
The Hebrew people had their own Joseph to turn to in time of great necessity, and so Christians similarly have turned to St. Joseph as a powerful intercessor before the throne of God.
If you are ever in need of something, "Go to Joseph" with heartfelt devotion and entrust yourself to the mercy of God.
Read more:
This ancient prayer to St. Joseph has "never been known to fail"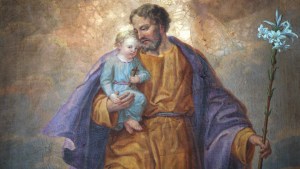 Read more:
The Powerful 30 Day Prayer to St. Joseph