When Emma's bridal shoes were delivered, there was a little something extra with them ...
For many daughters, it's time spent with mom leading up to the wedding day that helps make the big event so special. Whether it's to glean advice, work together on the planning, or calm each others' nerves, it's a mother-daughter moment to last a lifetime. But for 38-year-old Emma from England, there wasn't going to be this special time with her mother because she passed away from cancer just one month after Emma's engagement in 2016.
However, before Emma's mother's death, she carried out one final motherly act of love: she organized a very special wedding gift for her daughter that was delivered to Emma last week. Without Emma's knowledge, her mom had contacted the online shop where Emma had picked out and paid half the money toward her wedding shoes. Her mom asked the shop to refund the money already paid and to also add a message on the soles of the bridal shoes.
Moved by this request, the shop owner, Amanda Weise of Lace and Love, explained to the BBC that it was the most touching job she'd ever done. Happy to give Emma that little bit of comfort on her wedding day, she secretly carried out the task and had the shoes delivered with this message written in gold:
Wanted you to have a gift from me on your wedding day. Your wedding shoes are my gift to you. Hope you have a magical day. Lots and lots of love and big hugs, MUM xxxx
Emma was shocked by the gesture, especially as her mom had written many letters to loved ones before her death but had run out of time before writing hers. "It's been so hard planning a wedding without having her with me, and I have had lots of tears," Emma expressed. Hopefully this tender gesture will allow Emma to marry her fiancé Richard knowing her mom is by her side when they walk down the aisle later this year.


Read more:
The last words of a dying bride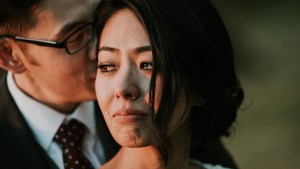 Read more:
Wedding photographer's question leaves bride in tears (PHOTO)