It's about so much more than resisting temptation.
If you have a sweet tooth then you know just how hard it is to curb sugar cravings. You might want to reduce the amount of candy or chocolate you snack on for health reasons. Or maybe you're trying to give them up completely for Lent (you're already over halfway there!). But regardless of the reason, it can be extremely difficult, especially with so many tempting tasty goodies out there calling your name.
You may not think the Bible would have anything to say about this, but it does, because the Word of God is always inviting us to look deeper at the everyday issues we struggle with. There are plenty of passages in Scripture, especially in Corinthians, where we are reminded that foregoing favorite things like snacks can serve many purposes.
First, there is this reminder that we need to respect our bodies and treat them well:
Do you not know that your body is a temple of the holy Spirit within you, whom you have from God, and that you are not your own? (1 Corinthians 6:19).
Scripture also reminds us that by looking to God to strengthen our willpower, it gives us the chance to grow in our faith in Him and to let Him demonstrate His power in our weaknesses:
But he said to me, 'My grace is sufficient for you, for power is made perfect in weakness.' I will rather boast most gladly of my weaknesses, in order that the power of Christ may dwell with me. (2 Corinthians 2: 9-10).
And finally, by choosing to resist the things that are easily accessible to us, we prove to ourselves that we are able make those right decisions. For every time we say "no" to that little sweet treat we're saying "yes" to a better path.
So keep up the good work and if you need a little help with your struggle with sugar, arm yourself with this fighting talk from St. Paul:
Therefore, put on the armor of God, that you may be able to resist on the evil day and, having done everything, to hold your ground … [ ] In all circumstances, hold faith as a shield, to quench all [the] flaming arrows of the evil one. And take the helmet of salvation and the sword of the Spirit, which is the word of God. (Ephesians 6: 13-17)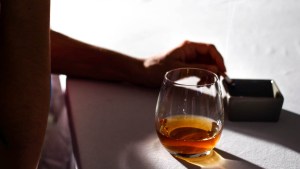 Read more:
Struggling with an addiction? Pray this prayer to St. Jude