One of many recent movies about racial injustice, this latest flick has a lot going for it.
It's hard to make a movie about race these days.
It's not for lack of trying. Three of last year's nominees for the Best Picture Oscar dealt explicitly with the subject, and one of them—Green Book—won.
But in its effort to be open-handed and inoffensive, Green Book ironically offended a whole bunch of people. This feel-good, old-fashioned story about a black musician and his white driver forming an unlikely friendship became one of the most controversial Oscar winners in recent memory.
The Best of Enemies may fall prey to that same sort of controversy, but the movie has a lot going for it.
Anchored by Taraji P. Henson and Sam Rockwell, two of the most compelling actors working today, it's based on a true story and, according to my interview with Bill Riddick—the guy who facilitated the real-life event on which the film is based—it sticks closely to the historical script (unlike Green Book). It's a remarkable story, too. Henson and Rockwell star as civil rights activist Ann Atwater and KKK leader C.P. Ellis, who formed an unlikely friendship and helped integrate public schools in Durham, North Carolina. The two became so close that when Ellis died, Atwater delivered the eulogy.
Maybe our culture is a little too angry and the divisions too deep and painful for a movie like The Best of Enemies. As a society, we're looking for justice and judgment, not mercy, not feel-good reconciliation. The latter feels a little empty to many … a smiling accomplice to centuries of racial injustice and indifference.
I get that. But I also think there's some good to be gleaned from these sorts of movies, too.
Yes, justice is critical; judgment is integral to progress. But the only way to change people, really, is by sitting down, looking them in the eye and talking with them—seeing them as people, not as an issue or an obstacle.
The Best of Enemies seems to get that—and it points specifically to Jesus as a catalyst for that change. He's not the only catalyst in the film; the prime mover in this story is Ann's and C.P.'s love of their respective families. But we know that both are people of faith. And when Ann waves her Bible at C.P.—looking a little like she'd like to hammer him over the head with it—C.P seems to notice and hear her for the first time.
"The same God who made you made me," she tells him.
According to Riddick, the real C.P. later went to Ann's church. In the film, C.P., struggling with some deep, difficult issues at home, finds himself drawn to the gospel music that the black charrette participants sing after each meeting: He listens to the music. He watches Ann sing and—lo and behold—smile. You can see how moved he is by what he sees. You can imagine him thinking about what Ann said—the same God who made you made me—turning the phrase over again and again in his mind.
C.P. is not a man who deserves understanding, much less mercy. For much of the movie, he's a militant racist who cried for joy when he got his KKK card. But the movie humanizes him, too: And I think for many people, that's the problem with this movie: It humanizes him too much.
Writing for RogerEbert.com, Odie Henderson writes, "Director Robin Bissell's script has more sympathy for, and pays more attention to, the Klansman than the Black children whose future may be forever damaged by the outcome of the charrette."
Sure, there's merit in that crit. But Rockwell's three-dimensional portrayal is also a good reminder of something we often forget: Those who often do the worst things in this world are still people. All of us are capable of deplorable, shameful acts. Sometimes, all it takes is a little push in the wrong direction. History reminds us of that simple, horrifying fact again and again.
Change—real change—is slow. Few of us reshape our hearts by being shamed or harangued. We change because someone has taken the time to get to know us—to understand who we are and to show us who we can be.
That's what Jesus did again and again—with prostitutes and tax collectors and Roman soldiers. He saved His anger for those who wouldn't, and didn't want to, change — the Pharisees and money counters who thought they had all the answers.
Maybe The Best of Enemies is an imperfect rumination on race. It's certainly out of step for the times. But whatever its weaknesses, the film still shows us the towering power of understanding, friendship, and grace—even when that grace is undeserved. And we all need that grace, more than we're willing to admit.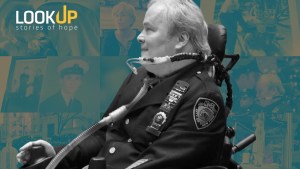 Read more:
The policeman who brought justice through forgiveness