Francis expresses a prayer that all will work together in harmony to reconstruct Notre Dame
Pope Francis has expressed his closeness to the people of France in the wake of the terrible fire that destroyed much of Notre Dame Cathedral.
He also has told those who risked their lives to put out the blaze that the whole Church is grateful.
He said this in greetings to the French-speaking pilgrims at the general audience:
Dear brothers and sisters, I am very saddened and I feel very close to you all. The gratitude of the whole Church goes to those who worked hard, even risking themselves, to save the Cathedral. May the Virgin Mary bless them and support the reconstruction work: may it be a choral work, to the praise and glory of God.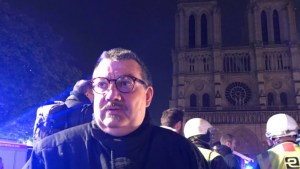 Read more:
'He made straight for the relics': Firefighter chaplain saves Crown of Thorns
Read more:
The Notre Dame fire burns a hole in our hearts, yet cannot consume our faith