If we transform our own homes, we can transform society.
In a world that is growing more and more divided, hostile, and aggressive, it can be difficult to teach empathy. It's not enough to talk to our children about this virtue and about how to practice it; we must be role models and leaders who transform our families, swimming against the current and fighting the harshness of our society with kindness, empathy, and charity.
It's often said that families are the key to changing the world. But our families can only make truly lasting and transformative changes in the world if we know how to face others with compassion, tolerance, and empathy.
Here are a few tips for making our own families more empathetic.
1
It's not enough to talk about doing good; we have to actually do it.
Our lives today are very busy, and our free time is easily filled with countless distractions that are constantly making claims on our attention. Consequently, it's difficult to discover ways in which we can, all together as a family, experience what it means to do good for others. We have to really make an effort to discover and take these opportunities. Going on a mission trip, participating in humanitarian work, spending an afternoon serving food at a soup kitchen, participating in some charitable activity organized by our parish, or visiting the aged and infirm are all opportunities we can take as a family to do good to others. Such activities are good in and of themselves, and they're also good because they will teach our children to do the same in the future. When we experience the joy of giving together as a family, it brings us twice the joy, and makes it more likely we and our children will do it again in the future.
2
We need to overcome our fear of differences.
Often, we create a sort of socially antiseptic environment for our children in which they are only exposed to people who are similar to them. We have to go outside of this bubble, and have the courage to seek more diverse friendships, with people of different backgrounds, beliefs, ethnicities, and abilities. Our family will benefit greatly from going out into the real world and learning how to accept other people with their differences, understanding that there is richness in diversity. We need to get to know other people in order truly to live together in harmony, and not just to coexist without active conflict.
3
We must behave the same way in person and on social networks.
Today, we can see terrible manifestations of intolerance, aggression, and lack of empathy on social networks. People hide behind pseudonyms to express opinions that are full of hate and intolerance, leading to a sort of double life. On social media, where people feel safe and often have some degree of anonymity, they will say things that they would never say to people's faces.
As families, we must teach our children that this is not acceptable. We must be the same person in real life and on social networks. What we do online, even if it's under a pseudonym, truly affects us as a person, and affects other people. As parents, we must set an example, and not have an online identity that conflicts with the morals and beliefs we claim to hold in our daily lives. If our children see that we are different online than we are in real life, we cannot expect them to behave differently.
4
We must be compassionate first with those closest to us.
The only way to form a truly empathetic family is if we practice love and compassion within the walls of her own home. We should ask ourselves: Do we help each other within our own family? Do we know how to put ourselves in the shoes of our spouse, or child, or parent, and help them even when they don't ask? Are we able to sacrifice ourselves and our tastes to make another family member's life easier and more enjoyable? These are vital questions that we must answer if we want our family to look outwards to the world with understanding, compassion, and love.
Read more:
6 Things you can say to help your child develop empathy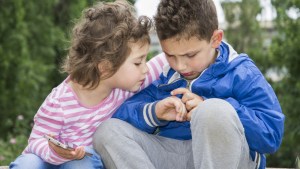 Read more:
5 Situations where empathy is the best apologetic