A young woman he met during his college years started this Mercedarian on the road to imitating the Good Shepherd.
Mercedarian Father Daniel Bowen distinctly remembers how every weekend when he was growing up, his mom would take him and his two brothers to Kingdom Hall. Their mom was a Jehovah's Witness, and this was their church.
Young Daniel believed in God but was filled with doubts about this community's creed. By the time he became a teenager, he had decided he had enough of church and told his mom he didn't want to go anymore  His father supported Daniel's choice and the boy seized the moment and stopped going.
The years passed and Daniel more or less forgot about God. Once in college, he became more self-absorbed and focused mostly on what might make him happy. Then he met a Catholic girl named Lisa.
Lisa told Daniel that if he wanted to date her, he would have to go to Mass with her. He did, and he liked it. Then she introduced him to Adoration of the Blessed Sacrament. That was it. The young man, as the saying goes, was "hooked."  
Eventually, Daniel and Lisa took different paths. The Holy Spirit had seized Daniel Bowen and was not about to let go. On August 15, 2015, the Solemnity of the Assumption, Daniel Bowen was ordained a priest. He now serves as Vocation Director for the Mercedarian Friars U.S.A.
You can find Father Daniel's inspiring story HERE: a beautiful story of a man who took his leap of faith holding hands with the Holy Spirit.
Aleteia asked Father Daniel to tell us a little more about his life's trajectory.
Larry Peterson: When and how did you receive your call to become a priest? Was there a moment in time or an event when you heard the Holy Spirit calling you?
Father Daniel: People began to ask me the question: "Had I ever thought about being a priest?" I hadn't, and so I had to ask God about it. It took a few years to figure it out, and then seminary to figure it out the rest of the way. No man knows for sure until he is lying on the ground before a bishop on the day of his ordination. It is totally a Holy Spirit thing, and prayer is an essential part of it all.
What attracted you to the Mercedarians? (The Order of the Blessed Virgin Mary of Mercy)
Father Daniel:The Order was founded by the Blessed Virgin Mary, so this Marian aspect was most attractive to me. Also, the Fourth Vow, the Redemptive Vow, the willingness to lay down one's life for another in danger of losing their faith — this "all in" aspect always spoke profoundly to my heart.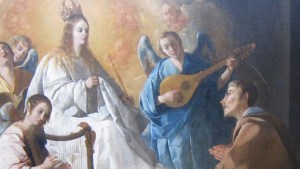 Read more:
How the Virgin Mary inspired a group of religious to exchange their lives for prisoners' freedom
According to a 2015 survey from the Univ. of Chicago, among those 18 to 34 years old, 30% do not have any religion at all. Many do not believe in God. Secularism seems to have infected the world. As the Vocation Director for the Mercedarians, your job must present quite the challenge. How is this going for you?
Father Daniel:I am still working on getting my wings, so to speak. Yes, it can be seen as a challenge, but I prefer to see it as an opportunity. God still calls people to Himself. Christ's death and resurrection are completely relevant to every generation, even those who feel it does not need to apply to them.
First is helping others know that our Lord, the God of love and mercy, is real and necessary to live a life of complete fulfillment. To help them realize the Christian faith is about relationship — God desires us to be in an intimate relationship with Him. And then to facilitate an encounter with Him.
Once men know this, then they can begin to find the mission and plan He has for their life. Could God be calling me to be a priest and/or a consecrated religious? And if the answer is yes, then it is best to find out if this is truly His calling, and if so, acting on it.
What advice would you give to a young person considering religious life?
Father Daniel: It is a great gift given by God to some, not all. It is a precious calling to be intimate with God and others in a way that no other lifestyle can match. It is a summons to love fully and without holding back. To proclaim boldly to our world that God not only exists, but He knows and loves us. That I am willing to forsake the goods of this life and world, in order to embrace, here and now, the blessing that God desires for us in heaven.
My advice: Go for it!!! Do not be afraid, or put it off, go find out if this is God's will for your life. If it is, you will have the best life. If it is God's will, then there will be a peace and deep, profound joy that will be under it all.
My advice: Go for it!!! Do not be afraid, or put it off, go find out if this is God's will for your life. If it is, you will have the best life.
How do you, as a priest, deal with negativity about the Catholic Church in the media?
Father Daniel:Some people were negative toward Jesus in His life here on earth. It is no different today. The Catholic Church is the Body of Christ; yes there is a very human element, but there is also a divine element present here, that should not be so easily dismissed. For all her faults — and only the Lord knows why He permits them — the Church is the most charitable and truth-bearing place on the planet. She is the spouse of Christ, and so must be present to continue to bring Christ's authentic presence, so that all generations may have the opportunity to encounter Him.
Staying close to our Lord in prayer is key to keeping one's head above water, especially when our faults are clearly manifested — keeping our hearts, minds, and souls on the Lord Jesus, who is the Way, the Truth and the Life.
What are the most challenging and rewarding aspects of your job?
Father Daniel:Helping others to believe that the faith is real, and then to fully surrender one's life to it. Seeing people fall deeply and madly in love with our Lord, and seeing that transformation take place is most rewarding. Experiencing the good work Our Lord is able to accomplish through people who desire Him to work in their lives is a beautiful blessing.
Challenging is seeing those who fall away from the faith, or keep saying no to God, seeing the resulting destruction in that person and others and knowing how much it hurts Our Lord, this is challenging. But following Christ is a summons to love, and it is an invitation that one must be free to choose or reject. Otherwise, it really isn't love, is it?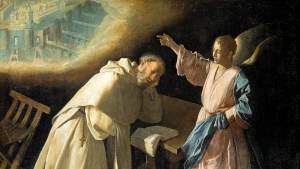 Read more:
800 Years of saving lives all started with this man: St. Peter Nolasco