A woman healed of multiple sclerosis 30 years ago is the recipient of the Irish sanctuary's first official miracle.
The local Church at the Shrine of Our Lady's apparition in Knock, Ireland, has recognized the first official miracle associated with the shrine.
A woman named Marion Carroll suffered from multiple sclerosis until she went to the shrine in 1989. She was healed as she was blessed with the Eucharist during benediction.
"I recognise that Marion was healed from her long-standing illness while on pilgrimage in this sacred place," Bishop Francis Duffy of Ardagh and Clonmacnois said in a homily during a Mass at the shrine earlier this month.
"Marion was liberated from sickness and its impact on her and on her family. It is also a healing for which there is no medical explanation at present, it is definite and yet defies medical explanation."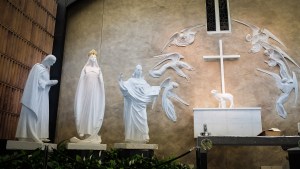 Read more:
Who is Our Lady of Knock? The silent apparition
While many people claim to be recipients or witnesses of miracles of many types — apparitions, visions, healings, etc — and while many have said they've been cured during or after a visit to the Shrine of Our Lady of Knock, this is the first miracle associated with the shrine that has been officially recognized.