The decisions you make at the beginning can make all the difference down the road.
This month, my husband and I celebrate 10 years of marriage. We've been together since senior year of high school, so part of me still feels like we're just kids on a crazy ride. At this point, though, we have a house, a minivan, and we're raising four children, so I guess we're officially adults. 
Recently, we've begun to teach marriage prep in our diocese, which has afforded us the time and space to reflect on our union and what we want to say to newlyweds. Here are five key things I would like engaged couples and newlyweds to know, if they hope to be as happy 10 years down the line as they are on day one. 
Before I begin, please let me clarify that I understand every marriage is as unique as the two people in it. There isn't one way to do marriage well. But looking back over the last decade, I can see the decisions we made years ago have made all the difference now.
1
Consider being open to life right away.
Up until a few months before our wedding (we were engaged for 18 months), we were planning to wait a year before trying to have children. Through prayer and discernment, we came to the contrary conclusion that our being ready for marriage also meant we were ready for a family. Our first child was born 12 days before our first anniversary, and I'm grateful we didn't have time to settle into a rhythm without another person to consider. I know myself, and if we had waited, I would have found reasons to continue to put it off because I tend to be scared of change.  
2
Be mindful of the long-term when you choose where to set down roots.
Circumstances in my husband's family led to our moving back to our hometown four years into our marriage. We always thought we'd move close, but didn't think we'd end up in John's childhood home. However, this was a relatively easy decision for us, since we didn't have to choose whose family to live near. We've been blessed with good relationships with both sets of parents, and their proximity has been a blessing as our family grows. Also, the relationships our parents and kids have with each other is one of the most beautiful things in our life. 
There may be reasons why being close to family may not be a good idea in your case, but be sure to think through this, imagining what you may need and want as your family grows.
3
Take a picture on every anniversary, even if it's a selfie.
We've only missed one year, and it is so much fun to look back on how we've grown and changed as a couple and a family. Sometimes people are in jammies. Sometimes not everyone will smile. But marking these milestones is a tangible way to see growth and the gifts we've been given in our living space and children. It's something I'm glad our kids will have in the future too. We also try to get pictures on Christmas and Easter—a good one first, and then a goofy one, as children's ages dictate.
4
Go to Confession regularly.
When we've been forgiven, it's loads easier to forgive others. And forgiveness is a necessary element of a happy marriage. Make receiving the sacrament a date, if that helps. The first Saturday of the month, go to Confession, then go out for ice cream or coffee. Build this tradition now, so that any children you have will consider regular Reconciliation a normal part of life. 
5
Don't stop saying thank you for the little things.
My husband and I say thank you a lot (and not just because I wrote a book that tells you to do so). We say thank you for washing the dishes, taking out the garbage, getting home for dinner, taking in the dry cleaning. As a result, we're both very aware of many of the sacrifices we're making for our family. With this much gratitude, there's very little room for resentment. We're also modeling gratitude to our children, who are well versed in saying thank you to us, each other, and the other people—teachers, coaches, etc.—in their lives. 
Our greatest gratitude goes to God, as every night our family prayer involves each person saying what he or she is thankful for that day. There are a thousand little things that build toward a joyful, peaceful, and lasting marriage. Ultimately, if Christ is at the center, as He always has been for us, you can look forward to a sanctifying experience of living out your vocation. 
Read more:
This odd phrase may be the best thing you can say to newlyweds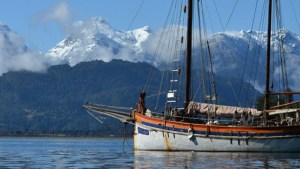 Read more:
Meet the couple who sailed around the world with their newborn