Live-streaming begins at 7am Rome time (1am EST), or watch the video anytime throughout the day.
Since early March, Pope Francis's morning Mass in the Casa Santa Marta has been live-streamed.
At the link above, you can tune in to watch the Mass at 7 am Rome time (1 am EST).
If you missed the live broadcast, to see the Mass of May 17.
The Holy Father requested that the morning Mass be live-streamed as a way to minister to the world in these turbulent times.
He usually begins by naming an intention for the Mass.
He has generally concluded the Mass with a time of adoration and Benediction with the Blessed Sacrament. He also leads a Spiritual Communion prayer.
Find Aleteia's daily report on the Mass here.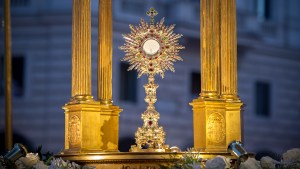 Read more:
Pray this beautiful Spiritual Communion with Pope Francis