Prayers from local traditions include an ancient hymn from the Franciscan tradition and a prayer from a Jesuit who suffered in concentration camps.
The Vatican has collected various of the prayers and addresses that Pope Francis has offered in the context of the Coronavirus pandemic, supplementing them with prayers from local traditions in a free download, available here.
Included in the publication are the pope's address and prayers at the extraordinary "urbi et orbi" ceremony on March 27.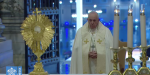 Read more:
Why the pope's blessing on March 27 is absolutely unique


It also brings in the notification on special indulgences for the times of the pandemic, as well as the pope's teaching on how to deal with the impossibility of getting to confession, faced by many of the faithful.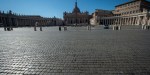 Read more:
Special indulgences granted for COVID-19 victims, caregivers, those praying for them


Among the local prayers are the "Stella Caeli Extirpavit Chant in Time of Pestilence," which is an ancient hymn asking for an end to pestilence, from the Franciscan tradition.
There is also from the Greek Church the Akathistos hymn. The publication explains:
This is one of the most famous hymns of the Greek Church dedicated to the Theotokos (Mother of God). A-kathistos in Greek means "not-seated," because it is sung or recited while standing as a sign of reverence for Mary, the Holy Mother of God. The structure is inspired by the description of the heavenly Jerusalem in chapters 21-22 of the Revelation to St. John. It sings of Mary in her identification with theChurch, the Virgin Bride of the Lamb. The hymn comprises 24 stanzas which is the numbers of letters in the Greek alphabet. It is planned in 2 parts – a narrative and a dogmatic – in which the beauty of Mary, Mother of Christ and Believers, shines through.
As well, there is the "Act of Offering" by Blessed Rupert Mayer, a Jesuit who died in 1945. He was sent to concentration camps for opposing National Socialism. This is one of his prayers of trusting abandonment to the Lord in a time of difficulty.
Find the publication here.