Invite God to accompany you in every activity, always seeking to do his will.
Modern life is busy, and it is relatively easy to forget about God during our daily activities. While it is good to be focused on the task at hand, we should always invite God to be with us, no matter what we are doing.
St. Francis de Sales explains this concept in his Introduction to the Devout Life, where he gives an analogy on how to stay focused on God throughout the day.
Imitate a little child, whom one sees holding tight with one hand to its father, while with the other it gathers strawberries or blackberries from the wayside hedge. Even so, while you gather and use this world's goods with one hand, always let the other be fast in your Heavenly Father's Hand, and look round from time to time to make sure that He is satisfied with what you are doing, at home or abroad.
This is a beautiful image, and de Sales explains how to do this in a practical way.
When your ordinary work or business is not specially engrossing, let your heart be fixed more on God than on it; and if the work be such as to require your undivided attention, then pause from time to time and look to God, even as navigators who make for the haven they would attain, by looking up at the heavens rather than down upon the deeps on which they sail. So doing, God will work with you, in you, and for you, and your work will be blessed.
As you go about your daily work, "pause from time to time and look to God," offering a short prayer, or simply resting in God's presence for a few moments.
By doing this, all your activities will be sanctified, and God's presence will be felt more in your everyday life.


Read more:
Stay focused with this prayer to reduce distractions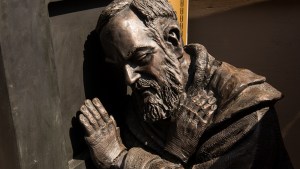 Read more:
Padre Pio says God is "obliged" to answer this type of prayer