Lauren Daigle will headline this year's "Christmas Under the Stars."
This year's annual "Christmas Under the Stars" holiday concert will feature Grammy Award winner Lauren Daigle as the headlining act. The Christmas themed event will stream for free on December 6, at 9 p.m. ET on the BYUtv streaming network. The yearly concert will be closely followed by a new event, "Christmas with The Chosen," which celebrates the first multi-season series about the life of Jesus Christ, The Chosen.
Christmas Under the Stars
Daigle had a landmark year, becoming the first artist to ever hold the #1 spot on a Billboard chart for two years. Her hit song, "You Say," has stood strong at #1 for 123 weeks and counting.As the headline act for "Christmas Under the Stars," Daigle joins another select group of artists who have been selected for the honor, including John Legend, Gladys Knight, and Five For Fighting.
According to the press release, Daigle is expected to perform her chart-topping hit, "You Say." Along with her originals, the lineup includes: "Jingle Bells," "White Christmas," and "O Holy Night." In an interview about the concert, Daigle commented:
"There are a few ways to stay focused and one is to remember that people need hope. There's a lot of people who are sad at Christmas; a lot of people that have lost loved ones and it becomes a season of sorrow. There's a lot of people who feel lonely in this season. I think really being mindful that not everybody around you is in the cheer. But, in that, Christ came to bring hope. He came to bring joy and comfort to the lonely and the brokenhearted. That's something we can bring to people in the Christmas season. That kind of represents who He is."
Christmas with The Chosen
Precisely one week after "Christmas Under the Stars," BYUtv is putting on a brand new event called "Christmas with The Chosen." The two-hour special will feature scenes from The Chosen's holiday-themed pilot episode, "The Shepherd," as well as live music. The concert has an impressive lineup of musical acts, including: Mandisa, For KING & COUNTRY, Zach Williams, Phil Wickham, Joshua Aaron, Hillsong United, Matt Maher, and more.
The Chosen is an episode-based online series that tells the life of Christ through the eyes of his followers. The series was funded by one of the most successful crowdfunding campaigns ever launched, which raised more than $10 million from 16,000 investors. The series was produced in 2019 by VidAngel and can be watched by downloading the app or watching on their website.  According to VidAngel, over 1 billion people worldwide have watched the series.
Both concerts are free to stream. For more details on how to watch "Christmas Under the Stars" and "Christmas with The Chosen," click here.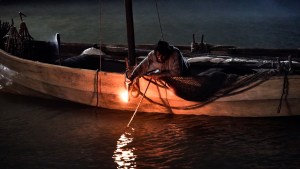 Read more:
Watch 'The Chosen,' the online series on the life of Jesus