From Rome to Florence, these are the country's most wonderful domes.
From the iconic dome in Rome's St. Peter's Basilica to the five golden domes of Venice's St. Mark's Basilica, Italian churches feature some of the finest examples of domed structures.
The earliest recorded domes were built to adorn tombs in India and the Middle East, and are thought to have made their first appearance in Europe, specifically the Mediterranean basin, around the Mycenaean period (600 to 1100 BC).
Domes, broadly defined as the rounded vault forming the roof of a building, come in different shapes and forms, from the round shape of the Pantheon to the octagonal shape of Florence's cathedral. They can be made with a single shell of concrete, or with elaborate cross-vaulted systems that have kept them elevated through the centuries. They all strive to signify the same thing: an invitation to connect with God above.
Here is a collection of the most beautiful domes found in Italian churches: 
1. Pantheon, Rome

When it comes to domes, the Pantheon remains as awe-inspiring today as it must have been when it was first built. Not only is it one of the oldest examples of dome architecture in Christian architecture (dating to the years 126-128) but it's also one of the most innovative. Almost 2,000 years after it was built it is still the largest unreinforced concrete dome in the world.
The entire structure is made of a single shell of concrete and volcanic rocks. It stands on a circular wall without entrances or windows save for the oculus, or "eye," a circular-shaped opening that lets natural light in contributing to a moving spiritual atmosphere. It was built during Emperor Hadrian's reign, and has been a Christian church, the Basilica of St. Mary and the Martyrs, since the 7th century.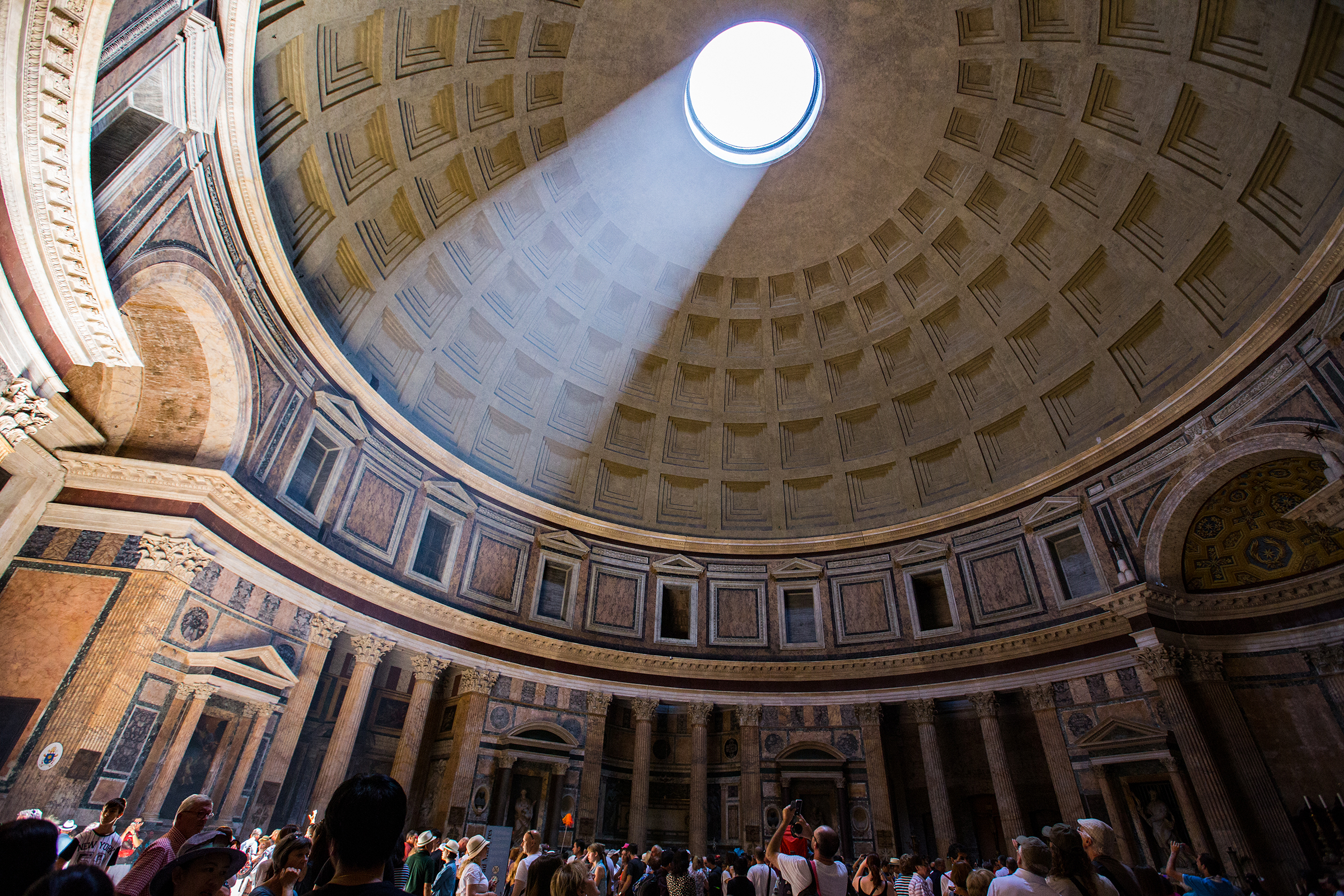 2. St. Peter's Basilica, Rome
The 138-feet wide dome that tops Rome's St. Peter's Basilica was designed by Michelangelo and decorated by Raffelo Sanzio and other Renaissance-era artists. Much of its architecture resembles that of the Pantheon, but in this case the dome stands over a raised drum standing on four large piers. Standing at 448 feet from the ground, it's also the tallest dome in the world.
3. Santa Maria Del Fiore, Florence

Originally built in the Gothic style, the dome of Florence's Cathedral of Santa Maria del Fiore was later turned into an innovative octagonal shape by Renaissance master Filippo Brunelleschi, who designed a complex system of crossed vaults. The end result is a gigantic half-sphere that is now considered the first masterwork of Renaissance architecture. A 436-step ladder leads visitors to its top for a close-up view of stunning frescoes by Giorgio Vasari. From this vantage point, they can also admire the entire city of Florence.