'The Most Reluctant Convert' is screen adaptation of one-man play.
How does an atheist become a fully believing Christian? 
That probably has as many answers as the number of people who have traveled such a path.
One of those journeys will be the subject of a film now in production. And it concerns one of the 20th century's most prominent converts, the author of the beloved Narnia Chronicles, C.S. Lewis.
The film is a screen version of a one-man stage play, The Most Reluctant Convert, by Max McLean, and will feature multiple actors to visualize the key events behind Lewis' conversion. McLean, founder of the Fellowship for Performing Arts, a New York theater company specializing in Christian themes, portrays an elderly Lewis in the film.
"Our hope is by making this film we can expand our reach from the tens of thousands that we reach through our stage productions to the potential of reaching hundreds of thousands — maybe even millions — worldwide through this film," said McLean. 
McLean said the COVID-19 pandemic, which led to the shutdown of live theater, opened an opportunity to film The Most Reluctant Convert a couple of years earlier than planned. 
Under the direction of Norman Stone, a two-time BAFTA winner, shooting took place between September 21 and October 9 at The Kilns, Lewis' home in Oxford; the Oxford Museum of Natural History, and Magdalen College. Stone in 1986 directed the award-winning film about Lewis, Shadowlands.
This new production also features Nicholas Ralph, who stars as James Herriot in the current remake of All Creatures Great and Small, as a younger Lewis.
According to the National Catholic Register's K.V. Turley, McLean started writing the stage play that would become the basis for the new film in 2011. In 2017 it hit the boards in New York and since then, McLean has been taking the work around the United States, performing it more than 300 times. 
"The film's storyline, told through flashbacks, is of the middle-aged Lewis remembering his boyhood and life as a young man both in war and peace, leading up to his conversion to Christianity in 1931," Turley writes.
"Here we are sitting in the very room where the Narnia tales were written," Stone said during a break from shooting. "It gives me goosebumps just talking about it."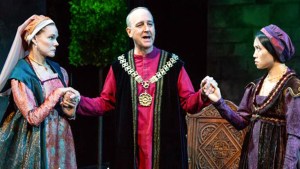 Read more:
"Unabashed" Christian theater hits Broadway with a powerful message