For the first time since the devastating fire of April 2019, a choir will sing from within the Paris cathedral.
On Christmas Eve, for the first time in a year and a half, a choir will perform in the Notre Dame Cathedral.
The twenty singers, two soloists and an organist will perform to an empty cathedral, as reconstruction continues after the devastating fire that destroyed the cathedral's roof and spire in April 2019. The concert will air on live television.
Third event after the fire
This will be only the third event to take place in the cathedral since the fire.
In June of 2019, the Paris Archbishop Michel Aupetit celebrated a Mass before about 30 people, half of whom were priests.
And on Good Friday of this year, the a "time of mediation" in which the relic of the Crown of Thorns was venerated, was held in the empty cathedral.
In 2019, the cathedral's traditional Christmas Midnight Mass was held in a rented circus tent erected on the outskirts of Paris.
Reconstruction to be completed by 2024
The cathedral's reconstruction is scheduled to be completed in 2024, according to a report at the website DW.com. French President Emmanuel Macron's pledged to finish work on the cathedral in time for the Summer Olympics in Paris,
Reconstruction was initially delayed in part because of difficulty in removing scaffolding that had been in place before the fire.According to the report, the fire had welded together the metal bars of the 200-ton scaffolding, so that the building had to be reinforced by wooden beams to prevent the walls from collapsing.
Workers removed the scaffolding in late November in time for the Christmas concert.
"The threat that the scaffolding posed to the cathedral no longer exists," said French Culture Minister Roselyne Bachelot, according to the DW.com report.
The Christmas Eve concert will not include the cathedral's famous 8,000 pipe Grand Organ, which is being restored. A smaller organ will be brought in for the event.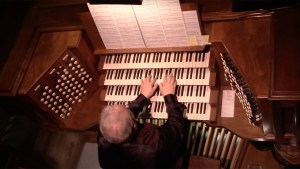 Read more:
Hear the work of a famed Notre Dame de Paris organist in live-streamed recital