A Catholic understanding of human dignity brings an entirely different approach to clothing for this new company.
Walking through a mall or reading a fashion magazine gives plenty of evidence that the fashion industry is not exactly on a mission to honor each woman's unique dignity. Quite the opposite, in fact; advertisers seem intent on making women feel insecure about themselves, all in an effort to entice them to buy a product or garment that will magically "fix" their problems.
A new fashion company, however, called Litany, is turning that all-too-common story on its head.
Finding inspiration in honoring Our Lady, the founders of Litany are building something new and unexpected. As a "made to measure" clothing company, Litany seeks to bring women inner peace and outer confidence through beautiful, ethically made clothing that fits them uniquely.
"Fashion is a place where, more often than not, women feel like there is a box they need to fit themselves into," said Veronica Marrinan, Litany's co-founder, in an interview with Aleteia. "The narrative is often, 'You aren't enough. But if you buy our clothes, you just might be.' This is so destructive because it undermines the reality that we are created as beautiful and beloved children of God, with a unique body and soul that are both made to give Him glory."
Litany is a "made-to-measure" clothing company, meaning that each garment is tailored to the specific measurements of the woman purchasing it, so that each item is custom made and unique. "This ensures extremely high-quality clothing that fits like a glove, while simultaneously ensuring that we do not produce products could end up in a landfill if unsold," their website explains.
Using the newest technology to personalize clothing is part of Litany's mission to celebrate women's individuality and personal worth. "For so long, clothing has been made in a set of pre-made sizes that wearers have to fit themselves into. This doesn't support living out the uniqueness of how we were created, body and soul," Marrinan said.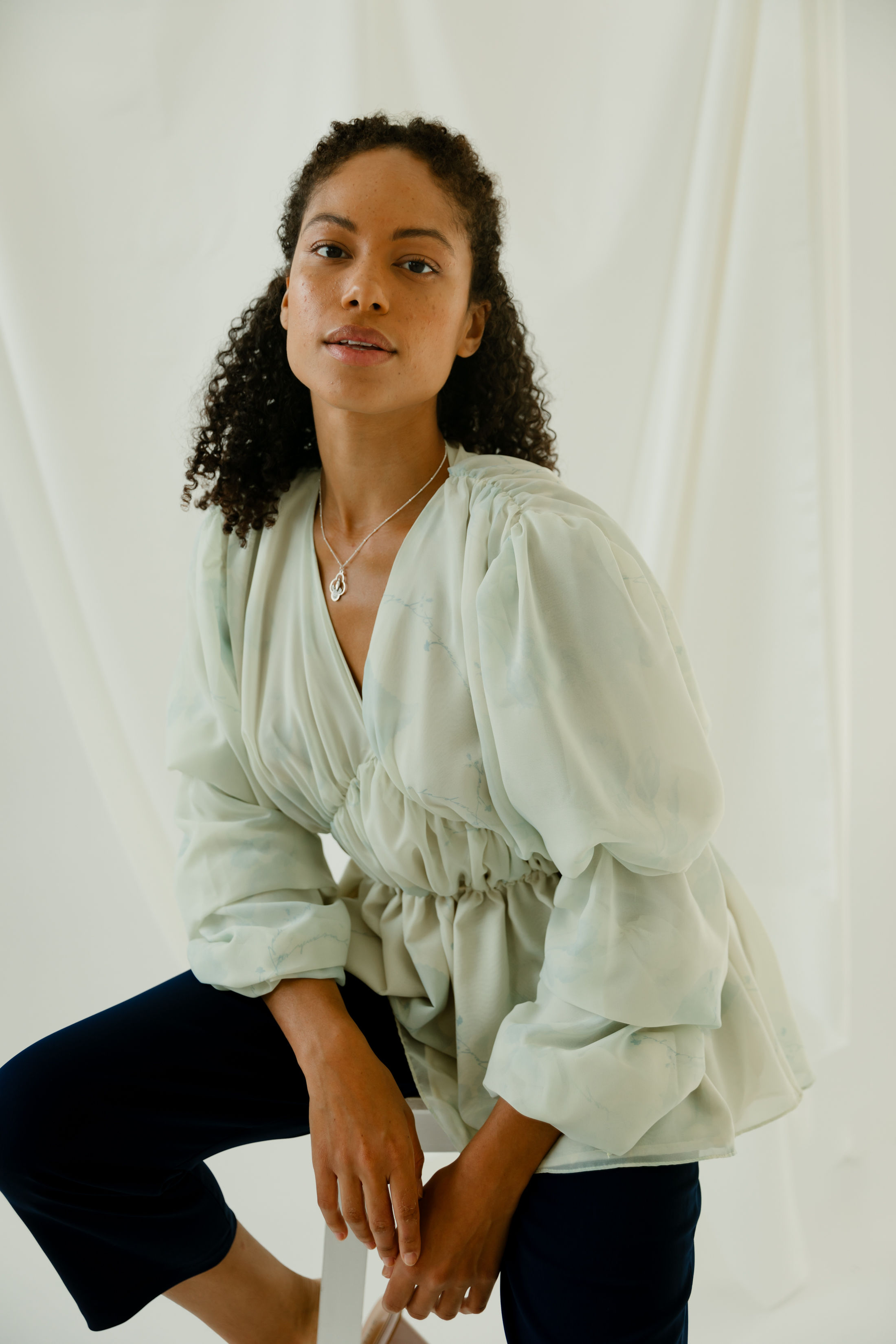 The best way to understand Litany's mission is to go back to the moving story of how it was founded. Two enterprising and visionary young women bonded over their shared love for fashion and for their Catholic faith. Marrinan said, "My co-founder Olivia and I both came to Manhattan to study fashion design in college. She was at Parsons and I was at FIT, and both of us desired a depth to our friendships and creative endeavors that we knew we could only find with a faith community." 
They met through the Catholic Center at NYU and bonded over a shared love of fashion, modesty, and Thomistic philosophical thought. Marrinan recalled how their friendship and shared interests led to a creative and spiritual thriving:
Both of us grew deeply in our relationship with God during that time, and delved more fully into what it means to be human, to be both spiritual and physical. Our creative work flourished more and more within our understanding of Theology of the Body, and we daydreamed about what we would design if there were no limits. Litany was born in one of these daydreaming sessions, when we thought we would do it years down the line.
Read more:
H&M launches modest fashion line for summer
When they first imagined Litany, the two thought it was a pipe dream. But a year after graduating, they both found themselves looking for new jobs and started thinking about it seriously. Veronica pulled out the business plan she'd made in college and the two gave it more thought. "We got to work updating it and really thinking about the facets of healing we wanted to bring into the fashion industry," she said.
Healing might be an unexpected word to apply to fashion, but it's an important part of Litany's mission. "We want to heal the fashion industry so that women are supported in true knowledge of their inherent goodness. Clothing is such a personal thing," Marrinan said. "It literally goes on our person, our unique body and soul, so it ought to be reflective of this deep mystery!"
Besides honoring a woman's unique dignity, Litany seeks to cultivate spiritual goods. Marrinan explained,
Our clothing is made to be meaningful, and for our Catholic and Christian customers this includes supporting their prayer life. Our hope is that by creating garments that are the fruits of our contemplation, we can bring a sense of thoughtfulness and prayer to getting dressed in the morning. If a woman can be reminded of her sacredness, even in small ways, she will be more confident in who she is as a daughter of God and bring Him to others.
This idea of clothing as a way to turn towards God is exemplified in Litany's newest release, a gorgeous pure silk floral scarf called "Mary, Mother of the Church." Litany collaborated with Janet Easter of Ever Thrift to create a scarf filled with flowers that bear profound Marian symbolism, a tangible reminder of a Catholic woman's call to honor and imitate Our Lady.
The prayer and thought that went into founding Litany and creating its products have borne a different kind of spiritual fruit in the life of Veronica's co-founder, Olivia Swinford. She recently left her work at Litany to become a postulant with the Dominican Sisters of Hawthorne. "Today she provides a backbone of prayer for our mission while serving the terminally ill and living a contemplative community life," the website says.
Besides honoring women's unique dignity and helping to heal their relationship with clothing, Litany's mission as a Catholic company includes ethical and sustainable production practices. "We decided to create a person-centric way of shopping, and to do that we need to go all the way, caring for the people who make the fabric, the people who sew it, and the wearer herself, so that they all feel seen and known," Marrinan said.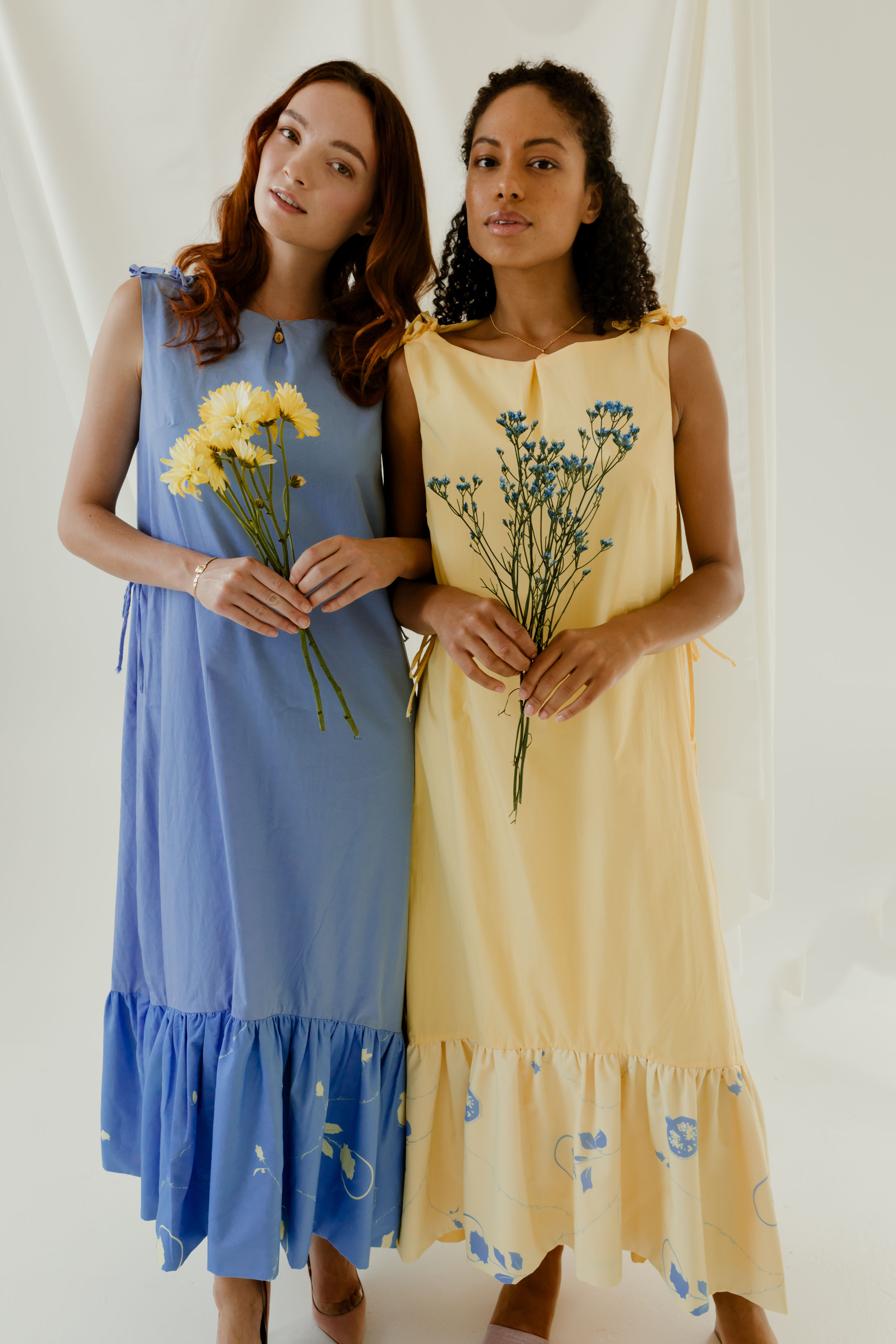 The fashion industry's relentless churn through cheaply and unethically made garments is harming both the environment and customers' sense of self, and Litany hopes to offer an alternative. "We're committed to creating a compassionate supply chain," she said, "We're here for women who want to make a positive impact through their clothing, both on themselves and the world around them."
Some of the practices that set Litany apart include sustainable dressing, a compassionate supply chain that reflects the wearer's dignity, and made-to-measure garments. All of these subtle yet definitive differences from the fashion industry's "business as usual" stem from a profoundly Catholic view of the human person.
More than anything, the team at Litany hopes that their work can promote this understanding of self for their customers. "We are enough! We are known and loved and worthy of it," Marrinan said.
Litany is where we're working to create a space in the fashion industry for each woman's unique personhood, where she can find a garment that is created with her sacredness in mind. We believe that if women consistently remind themselves of who and Whose they are, their hearts will change for the better. Mother Teresa once said that if you want to change the world, start in your home. We are changing the fashion industry by starting in the home of every woman's heart, so that she can carry that change and healing into the world around her.
Read more:
Fashion and beauty writer challenges women to think differently about what they wear