The discovery is the first evidence from the Second Temple era ever to be found on the site.
As is so often the case in Israel, a recent construction job has revealed a wealth of biblical era history. An ancient Jewish ritual bath, or mikveh, was discovered at the site believed to be the biblical location of Gethsemane. The find represents the first bit of evidence of religious activity ever discovered in the area from the time of Christ.
First evidence of Second Temple Era activity
The discovery of a mikveh is not uncommon, The Times of Israel reports. There are hundreds of ritual baths dotting the Israeli landscape, but this one could validate the biblical narratives. The Garden of Gethsemane, which translates to "Olive Press" in Hebrew, was supposed to be an important Jewish religious site. The lack of evidence until now, however, had experts questioning whether Gethsemane was located elsewhere.
In an interview with the Times of Israel, Israel Antiquities Authority's Jerusalem district head Amit Re'em said:
"It is not from the mikveh that we are so excited, rather the interpretation, the meaning, of it. Because despite there being several excavations in the place since 1919 and beyond … there has not been one piece of evidence from the time of Jesus. Nothing! And then, as an archaeologist, there arises the question: Is there evidence of the New Testament story, or maybe it happened elsewhere?" said Re'em.
The report goes on to note that if the site was indeed home to an olive grove, then Jewish custom would require ritual cleansing before making olive oil. Since the mikveh was not determined to be in a private residence, experts believe that it was linked to the production of olive oil. The team intends to analyze the site for evidence of olive tree pollen, which would further corroborate this theory.
Ancient church discovered nearby
The mikveh was discovered in the vicinity of the ruins of an ancient church. According to a report from Artnet News, the church is known as the Church of the Agony, or the Church of All Nations. The 4th-century Byzantine church is believed to have been erected on the spot where Judas betrayed Christ. Also discovered in the area were the remains of a Crusader-era monastery.
According to Artnet, the church is adorned with finely crafted stone carvings, and the floor bears an inscription, which reads:
"For the memory and repose of the lovers of Christ … accept the offering of your servants and give them remission of sins."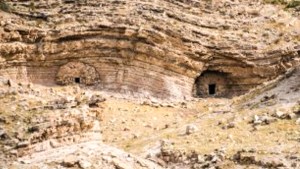 Read more:
King Herod's ritual baths discovered in Machaerus, where John the Baptist's death was ordered