Only communicating with his eyes, 13-year-old Jonathan Bryan gives us a timely reminder on the reality of Christmas.
A few years ago I had the pleasure of discovering one of the most inspirational young men of my life. Jonathan Bryan was born with severe cerebral palsy and has extremely limited physical mobility, necessitating the use of a wheelchair. Until the age of nine he was unable to communicate at all. However, with the encouragement of his family, Jonathan's inner thoughts were revealed when he was able to communicate through his eyes: and what a revelation it was!
The devout youngster not only recounted a near-death experience in which he found himself climbing trees in Jesus' garden, but he also shared a depth of unimaginable faith and joy for a boy who has suffered so much physical pain and lived a life seemingly cut off from the rest of the world.
For me, and many like me it is assumptions that are the most disabling. Assumptions that:
because we struggle to communicate, we must be intellectually disabled;
we need to be talked to and treated like toddlers;
our quality of life is determined by labels.#WorldCPDaypic.twitter.com/yvyd8vatuE

— Jonathan Bryan (@eyecantalk) October 6, 2020
The now-13-year-old has received many prestigious awards and acknowledgements in his native England, thanks to his work in campaigning for inclusive education for those with disabilities. He's also gone on to write a moving book, Eye Can Write, and is still campaigning to allow all children to receive an education.
A true inspiration, I often look at Jonathan's blog to see what he's been writing about. This week Christmas was front and foremost in his mind. And in an exquisite and humbling post, the teen shares the true meaning of the season in light in a time of pandemic. It's something to read and share while also marveling at the perceptive thoughts of one so young. So to help put your Christmas in perspective, take a look at these sage words from Jonathan Bryan:
Christmas Is Not Canceled


Nor is it small. Christmas is the biggest event in history and nothing can change that. Not even a global pandemic.



When God became man he didn't come in what humanly speaking could be termed perfect conditions. His mother had travelled days away from her family, and although we romanticise the manger I'm sure this was not the crib Joseph the carpenter had in mind for the baby. Nationally this was an unsettling time of upheaval as the Roman occupiers counted the population. And yet in the midst of the mess and complications God came. Immanuel, God with us.



This Christmas many of us have had to change our plans and not see as many extended family or friends as usual, or even as we planned to last week. Understandably, we are all upset about this; for me Christmas is characterised by a house full of cousins and grandparents, and this year that will have to happen on Zoom. But as someone who is clinically vulnerable I want to say thank you for following the rules. That way people like me will hopefully be with you to celebrate Christmas next year.



So as we celebrate in our less ideal way, let us remember this is how God chose to send his son to us. Into the mess, the chaos and the unpolished areas of our lives. Jesus, Immanuel is God with us. He came as a light in the darkness, to bring us hope and that light and hope now lives in us.



My prayer this year is that we all encounter Immanuel, God with us, in our hearts and lives this Christmas.



Happy Christmas to you all.

If you look at Jonathan's original post you can also catch a glimpse of his beautiful handmade nativity set from Bethlehem that his parents gave him for his baptism. And if you'd like to learn more about this exceptional teenager, you can discover his story in his book Eye Can Write.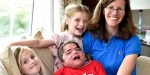 Read more:
Unlocking Jonathan: A mother helps her disabled son find his voice