Spehar was in the studio in 2020 and expects to release a new record in February.
Catholic songwriter Luke Spehar has announced the release of a brand-new album in 2021. To mark the reveal, he dropped the first single, "How Can I Keep from Singing," a timeless hymn that has us excited to see what else he's got in store.
It's been two years since Spehar earned a permanent spot on our personal playlists, with his album The Pilgrim. The work was an introspective Catholic masterpiece that explored faith in many aspects of daily life. Now, the new single has us primed and ready for more of Spehar's unique brand of Catholic folk music.
One of our favorite parts of Spehar's sound is his intricate, driving guitar rhythms. In the single, the guitar keeps the song moving like a freight train, with accented low notes and ringing highs. His gentle vocals contrast beautifully with the almost rushed pace of the guitar, which makes the tune striking and memorable. We thought his soothing vocal style was particularly well suited to the comforting melody of the 19th-century hymn.
What's on the record?
Spehar is keeping his new album pretty close to the vest. While he has not yet announced the title, he did note in a Facebook post that the album has another 10 songs. In a conversation with Aleteia, Spehar hinted that the album might include a few more hymns. The selected works, he said, were "sources of encouragement and hope" during the long months of isolation.
We can't wait to hear which hymns Spehar chose to include on the new album. Personally we would love to hear him sing "Behold the Wood of the Cross," a tune that would be fitting with a release so close to Lent and Easter. We expect that any hymn would fit well into Spehar's humble acoustic style. 
There is still a month to go before the new album's release. Until then, listen through The Pilgrim to learn just why Luke Spehar is one of the most exceptional Catholic artists on the market.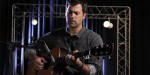 Read more:
Luke Spehar's "All Is Gift" is everything Catholic music should be