This one thing he did makes all the difference.
I make inspiring statements for a living. Or at least, that's the idea. If you knew me, you would know how hilarious it is that I would be tasked with speaking wisdom and sage advice into the hearts of supplicants. I'm just a normal guy. I like watching football and wrestling my kids. Sometimes I lose my temper and say things I regret or forget to say my prayers. Some days I behave in ways that make me proud and other times embarrassed. I'm average in every way. Every morning, though, I put on my cassock and vestments and step up to the altar to celebrate a Mass. Halfway through, I go to the pulpit and preach a homily meant to impart profound spiritual insight into the minds of a captive audience. The idea is that these homilies would be simple but also thoughtful, comforting but also challenging, truthful but gentle. It's a tall order. I try my best but suspect that the results are mixed at best.
There's a certain amount of trust at work in the creation of a homily. I have to trust that what I'm saying has value and that God will use it to encourage and inspire people. The words don't come easy, and there are definitely days I doubt myself. Perhaps that's a healthy reaction, to doubt. Or at least it's healthy in moderation. It keeps me honest and makes me think through my words carefully, not assuming that whatever I say will automatically be profound. Most likely it's not, which is why my homilies go through a process of several drafts. (If you thought the final version was mediocre, you should've seen the first one!)
At least with writing and homilies, I have a chance to rethink and shape my words. How about the parents out there who have to find the exact right words at the exact right moment to comfort their children when there's a crisis? Or give them life-changing advice with the exact right phrase that will get through to them? What about all the times you've been asked for advice from a friend and have no idea what to say? You can't just shrug your shoulders, but you also don't want to say the wrong thing. It takes a lot of trust in yourself to respond in those situations. But respond we must. After all, that's what parents do, and that's what friends do.
As I was learning to trust that I was adequate to the task of preaching, I remember reading a story about St. Thomas Aquinas that opened my eyes to how pervasive self-doubt can be and how to overcome it.
In 13th-century Europe, Aquinas had become well known for intelligence. He was particularly admired for his clarity in teaching on the complicated topic of the Eucharist. There was a tense controversy at the time over how to define the Eucharist; Was it only a symbol? Did it stay bread even after the priest consecrated it? What does it mean to say that it contains the Real Presence of Jesus? St. Louis, King of France, invited Aquinas to come to the University of Paris to help settle the argument that was taking place among the faculty and students.
The job given to Aquinas, in other words, was to say something so incredibly inspiring that it would convince a crowd of people who loved arguing to stop arguing. Even though he was a brilliant man, he began to worry that nothing he could say would be brilliant enough to convince everyone. It was like trying to wrangle a roomful of cats, or I guess in medieval parlance it was like trying to get all the angels to dance on the head of the pin at the same time. It's a scenario that wasn't conducive to success, and the doubt of Aquinas was acute.
I particularly like what he did next. Even though he was experiencing self-doubt, he went ahead and prepared his thoughts the best that he possibly could and then he prayed and fasted for three days. As he sat in the chapel, he placed his written treatise about the Eucharist on the altar, symbolically placing it in God's hands. Later, when he presented his argument at the University, it was unanimously accepted.
He went on to write widely on a number of complicated theological topics, but I wonder if his self-doubt ever quite left him entirely, because years later he was again in prayer in a chapel and God chose the opportunity to encourage him. The crucifix on the wall began to glow brightly. Jesus came alive and spoke, saying, "You have written well of Me, Thomas. What would you desire as a reward?" Aquinas broke into tears and replied, "None other than thyself, Lord."
Everyone struggles with doubt, even people you would never think would be affected. Highly successful, intelligent, well-respected people have the same doubts that anyone else has. We all wonder if we're good enough, if we said the right thing, or are truly adequate to our daily tasks. It occurs to me that, if we're all thinking this way, there's literally no pressure. The example of St. Thomas seems to me a particularly simple but effective way of dealing with self-doubt – do your best and then give it to God.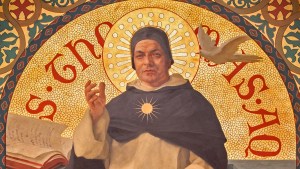 Read more:
Put your life in order with this prayer by St. Thomas Aquinas